Actualités • Events
The 2023 Leadership Talks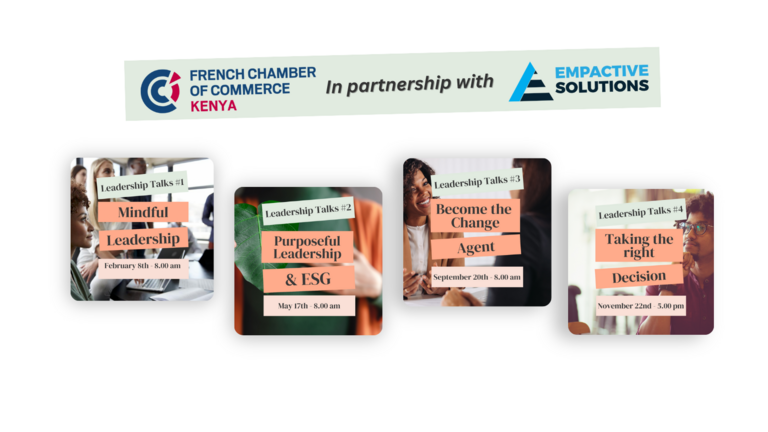 Our new event series: the 2023 "Leadership Talks"!
The French Chamber is excited to introduce its 2023 Leadership Talks in partnership with Caroline Englund, Founder & Managing Director at Empactive Solutions.

Caroline has 10 years of experience in business transformation & strategy, HR, and change management. She is passionate about people and how they drive businesses. After working for multinational companies in various geographies, Caroline moved to Nairobi to launch Empactive Solutions.
The Leadership talks are dedicated to the top Managers and will take place in 4 sessions throughout the year
Our first session, Leadership Talk #1, will be held on the 8th of February and will focus on Mindful leadership:
How to use emotional intelligence as a leader? How to find your voice and your style? What is your passion as a leader? What type of leader are you? What kind of leader do you want to be?
This is a unique opportunity to learn more about leadership and empower yourself to become the leader of tomorrow. Here is our agenda:
Leadership Talks #1: Mindful Leadership: "Find your style!" on February 8th
Leadership Talks #2: Purposeful Leadership: "Do you speak ESG?" on May 17th
Leadership Talks #3: Transformational Leadership: "The Change Agent" on September 20th
Leadership Talks #4: The Leadership Challenge: "How to make the right decision?" on November 22nd
Click here to see our upcoming events !
Please note that this sessions are specially dedicated to the french chamber of commerce member.