Information about Kenya
A quick look into Kenya: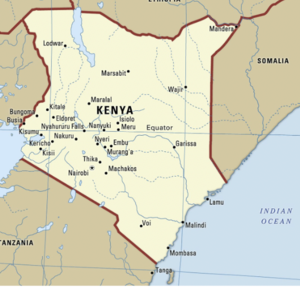 Official name: The Republic of Kenya
Official languages: English / Swahili
Capital: Nairobi
Population: 53,005,614 million as of 2021
GDP: 110.35 billion
GDP growth: 7.5%
Unemployment: 5.5%
Inflation rate: 6.1%
Current president: His Excellency Dr. William Samoei Ruto
Economic Outlook: Largest in East Africa!
🔸Strategic Location: A Production and Distribution Base
Kenya's strategic location bordering the Indian Ocean has positioned it as the largest and most advanced economy in East and Central Africa. It serves as a crucial production and distribution hub for the continent.
🔸Key Sectors Driving Growth
Kenya's economy thrives on key sectors such as agriculture, which accounts for 30% of income, along with manufacturing, real estate, and services. Agriculture plays a vital role for several reasons:
Ensuring food security
Providing employment and livelihoods
Driving economic growth
🔸Economic Recovery and Growth
Despite the setbacks caused by the COVID-19 crisis, Kenya's economy is showing signs of growth. The real gross domestic product (GDP) has increased by a rate of 6.8%. The country has faced challenges with inflation, high unemployment rates, and the ongoing battle against climate change, which has contributed to the recent decline.
🔸Resilience and Future Potential
Kenya's economy demonstrates resilience and a strong potential for growth. With strategic sectors and a commitment to overcoming challenges, Kenya is poised for a brighter economic future.
Kenya: Sustainable Development and Innovation
🌍 Key Hub for Development & Innovation
Nairobi hosts one of the five United Nations headquarters, positioning Kenya as a vital center for sustainable development and tech innovation in Africa. With 23 UN agencies dedicated to the Sustainable Development Goals (SDGs), Kenya actively addresses poverty, environmental challenges, and social progress.
💡 Silicon Savannah: Tech Leader
Embracing the title of "Silicon Savannah," Kenya boasts a thriving tech ecosystem that attracts tech enthusiasts and entrepreneurs. Supported by advanced infrastructure and a talented workforce, Kenya is at the forefront of tech innovation and growth in Africa.
✨ Leveraging Tech for Impact
Harnessing the power of technology, Kenya aims to achieve the SDGs and enhance the quality of life for its citizens. By leveraging digital solutions and innovation, Kenya is driving positive change and shaping a sustainable and prosperous future.