Political and Economic Analysis • Actualités • Events
Insights into East Africa's Regional Economic Outlook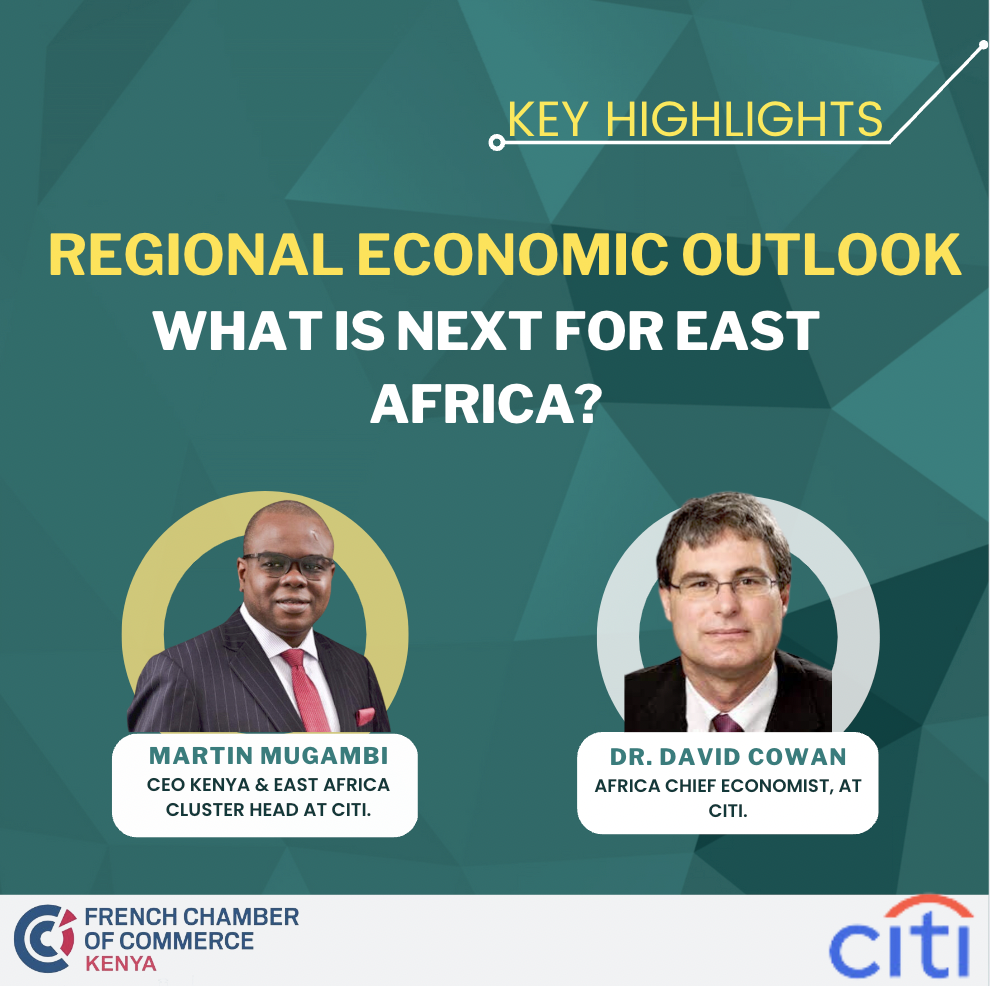 Recap of our Event in Partnership with CitiBank
Past Event

The French Chamber in partnership with its member Citi recently held a high-profile breakfast meeting on the Regional Economic Outlook of year 2023. The event took place on Friday, 31st March, at the Mercure Hotel and featured expert speakers from Citi who shared valuable insights on the economic situation in East Africa and the forecast for 2023.
A big thank you to our esteemed speakers from Citi, Dr. David Cowan, Managing Director, and Africa Economist at Citi, and Mr. Martin Mugambi, CEO Kenya & East Africa Cluster Head at Citi. Our members had the opportunity to engage in an insightful conversation about the current economic landscape in East Africa and gain valuable knowledge from these industry experts.
Key Highlights of the event
During this Breakfast Meeting, our speakers touched upon various important topics that shed light on the regional economic outlook in Kenya. One of the key takeaways from Citi's presentation was the concept of the "Global New Normal," characterized by a polycrisis. The speakers discussed potential challenges such as supply chain disruptions, accelerating inflation, currency fluctuations, high-interest rates, diminishing purchasing power, political unrest, and business closures.
The presentation also addressed the importance of reducing fiscal deficits in the region. The discussion revolved around the fiscal consolidation path over the medium-term, highlighting the significance of fiscal discipline for economic stability and growth.
Furthermore, the speakers analysed the yields on African Eurobonds.
Citi outlined five key thematic messages during the event, providing a comprehensive overview of the current economic landscape and its implications for businesses in East Africa.
"Commodity Prices Stabilizing - Eyes on Energy": As the world moves towards a "post-Covid phase," raw material prices have stabilized, but the focus now shifts to addressing energy costs and availability, particularly in Sub-Saharan Africa.
"Inflation Moderation & Pause to Hiking": With the Federal Reserve's rate-hiking cycle nearing its end, emerging markets, including East Africa, can anticipate rate cuts.
"The FX and Deficit Conundrum": Sovereign entities are returning to the market, gaining access to markets previously limited.
"Cautious Ambition": Building resilience in the ecosystem and supply chain emerged as a key focus.
"Focus on Building Sustainability (ESG)": The importance of investment in future readiness and adopting Environmental, Social, and Governance (ESG) initiatives was emphasized.
---
🔹About Citi:
Citi, a global bank with a rich history of 200 years, aims to assist its clients in navigating the world's toughest challenges and embracing opportunities for growth and economic progress. Their core activities include safeguarding assets, lending money, making payments, and accessing capital markets on behalf of their clients. With their extensive experience and expertise, Citi is committed to serving as a trusted partner to its clients.