Event report
Webinar⎢Implementation of NSSF Act 2013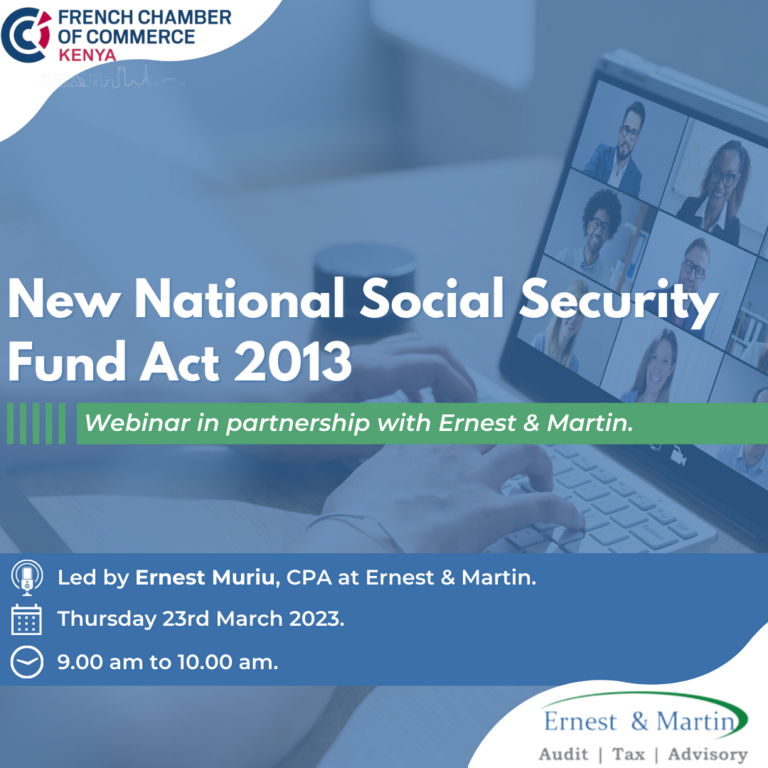 With Ernest & Martin
Last week, on Thursday 23rd March 2023, we held a webinar in partnership with Ernest & Martin on "The implementation of the NSSF act 2013" and it's impact on your business. This event was open to all attendees and ended with a dynamic Q&A session.
Following the recent court of appeal decision on the enactment of the NSSF, our members Ernest partnered with speaker from the APA to reveal several new objectives & establishment of the fund, the benefits, the contribution schedule, the impact on the employers and other implications of the new NSSF Act.
This webinar aimed to inform our members on current situation and what impact it will have on their Business Activity.
Speaker Ernest Muriu, Partner at Ernest & Martin Associates.
Speaker Selena Milimu, Senior Business Development Manager at APA Life
Here are 3 important facts about the implementation of the NSSF act 2013 and the impact on your businesses:
The implementation of the NSSF Act 2013 in Kenya has increased the contribution rates for both employers and employees, resulting in higher retirement savings for employees.
The Act has introduced penalties for non-compliance, to ensure businesses are adhering to the new rules and regulations.
Some businesses may experience short-term financial challenges due to the increased contribution rates, but in the long run, the implementation of the NSSF Act 2013 is expected to result in a more stable and sustainable retirement savings system for Kenyan workers.
We thank Ernest and Martin for partnering with us. A special thank you to Ernest Muriu, Partner at Ernest & Martin Associates for this insightful presentation.
---
At Ernest and Martin, their mission is to "To make a difference for our people and our clients."
Ernest and Martin is a Kenyan-based business that offers a wide range of services to its clients. The company's website showcases their expertise in different areas such as accounting, tax, and audit services. They provide financial solutions to individuals, businesses, and organisations seeking to improve their financial management.