Event report
Successful 2023 Annual General meeting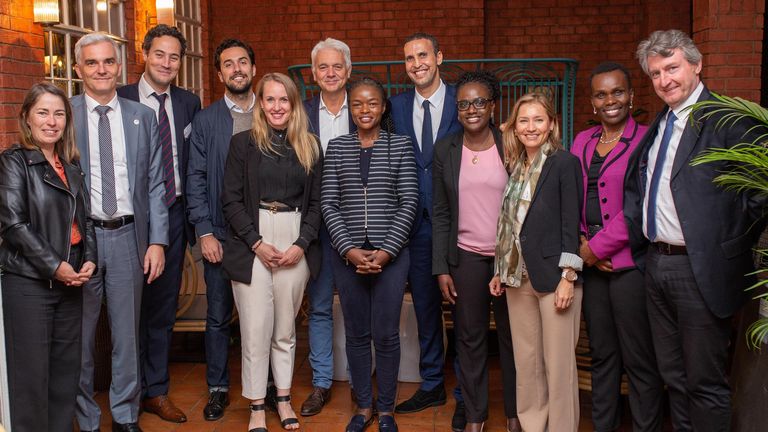 Highlights from Our 2023 Annual General Meeting
21 June 2023 - Past Event

Highlights from Our 2023 Annual General Meeting
The 21st June the French Chamber of Commerce's 2023 Annual General Meeting took place. This important event brought together to report our accomplishments, reflect on the past year, and elect our new board members 2023-2025. This year, we were delighted to have this important event hosted at Fairmont the Norfolk Hotel.
With a successful year behind us, characterized by significant growth, impactful partnerships, and a thriving platform, our AGM sets the stage for an even brighter future. We extend our heartfelt gratitude to all attendees, including esteemed guests such as H.E. Arnaud Suquet, Ambassador of France in Kenya, and Jérôme Baconin, Head of the Service Économique Régional de Nairobi, for their invaluable support and presence. A big thank you to our member Accor for the venue.
---
This assembly was led by our esteemed Executive Director, Laure Paugam, alongside the Chairman of the French Society in Kenya, Othmane Chaoui, and our Treasurer, Christian Fourcart. The FSK covered the following crucial points:
Record-Breaking Growth:
Growth was a key point of our AGM as we celebrated a remarkable increase in our membership base. Over the course of 2022, we experienced an impressive growth rate of over 24%, with new members joining our organization from diverse backgrounds and industries. This surge in membership reflects the increasing recognition and value our organization brings to professionals seeking a dynamic community and enriching opportunities to boost business.
Platform Expansion and Engagement:
Our platform has played a pivotal role in fostering engagement and facilitating knowledge-sharing among our members. In 2022 alone, we successfully hosted 53 events, attracting an astounding number of 2300 participants. These events covered a wide range of topics, from industry-specific discussions to skill-building workshops and networking sessions to strengthening relationships.
By leveraging cutting-edge technologies and innovative approaches, we have created a vibrant space for professionals to connect, collaborate, and expand their horizons.
Building Impactful Partnerships:
Partnerships have been instrumental in driving our organisation's success, and we dedicated a significant portion of our AGM to acknowledging and celebrating these collaborations. We express our gratitude to all our partners for their unwavering support and commitment to our shared goals. Through strategic alliances, we have been able to amplify our reach, access new resources, and enhance the value we offer to our members. These partnerships have not only expanded our network but have also facilitated the development of groundbreaking initiatives that will shape our organization's future.
---
The event ended with a networking cocktail in the Fairmont the Norfolk's magnificent garden where our guests were able to share and network with the FSK community.
Our 2023 Annual General Meeting was a great success, leaving us energised and inspired. We extend our deepest gratitude to all attendees, members, and distinguished guests for their invaluable contributions and support. Together, we will seize new opportunities, overcome challenges, and forge ahead towards even greater accomplishments bridging opportunities between Kenya and France.