Event report
Panel Discussion & Afterwork ⎢Women in Business.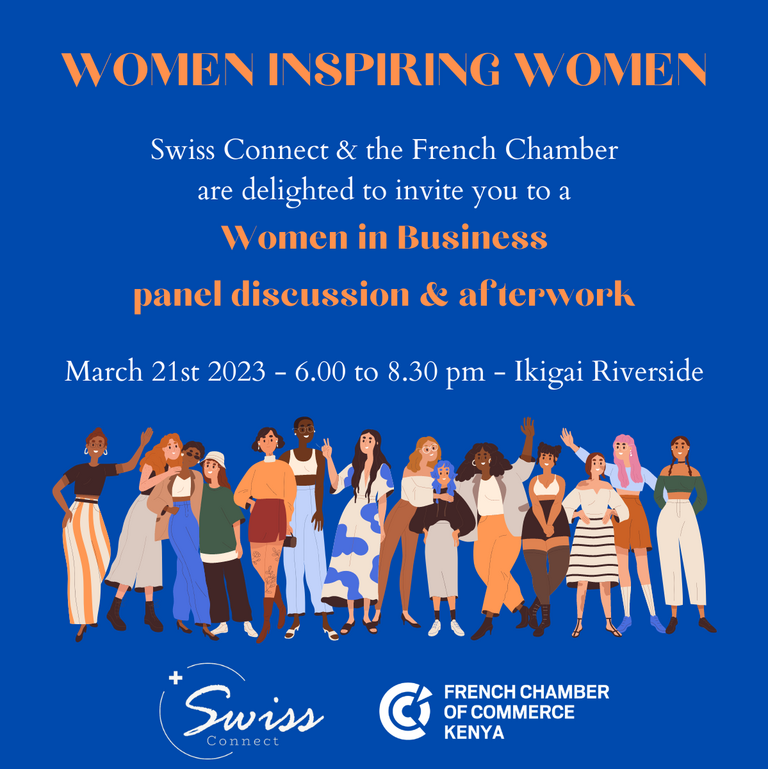 With Swiss Connect.
Women's day was around the corner, so we gave the mic to 5 high-level speakers to share their views as a woman in business in 2033.
The French Chamber of Commerce & Swiss Connect were happy to partner on a Women in Business Panel Discussion & Afterwork.
This one-of-kind Panel Discussion & After Work on "Women in business", was moderated by our Executive director Laure Paugam, and Caroline Englund, Managing Director at Empactive Solutions, on behalf of the Swiss connect community.
Here is how it went down: The event brought together 50+ businesswomen and ended with a women-only networking cocktail at Ikigai.

Our 5 High Level Speakers:
- Jane Muigai-Kamphuis, Founder & CEO of the Toolkit iSkills
- Hildabeta Amiani, Country Sales Manager at Air France KLM
- Sienna Dutkowski, Director of Community and Social Affairs at Lady Askari
- Faye Ekong, Managing Director & Co-Founder at RavelWorks Africa
- Kuda Imholz-Mudzi, Finance Manager at Roche Pharma East Africa
A special thanks to our 5 Panel List for this inspiring, informal and lively talk.
You can access all memories of the event here.