Meet the CEO with IBL.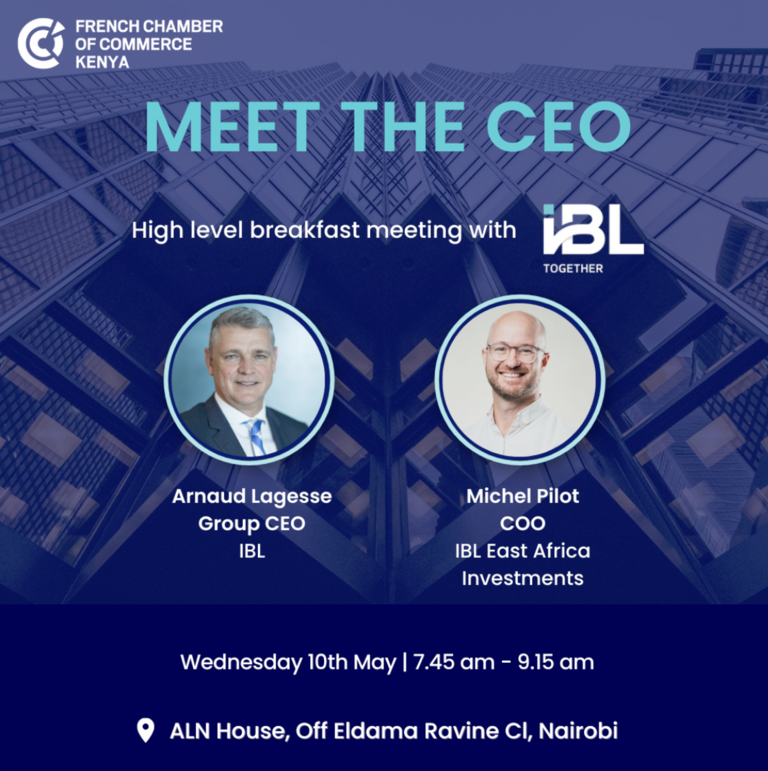 Past event ⎢In partnership with IBL
Meet the CEO - IBL at ALN offices
Wednesday, May 10th - The French Chamber of Commerce in Kenya recently hosted an engaging breakfast meeting, "Meet the CEO," in collaboration with IBL together, a leading diversified company based in East Africa. The event took place on Wednesday, May 10th, at the prestigious offices of Anjarwalla & Khanna | ALN in Nairobi.
It was a great opportunity for our members to meet with Michel Pilot, COO and East Africa Investments at IBL together, and Arnaud Lagesse, Group CEO at IBL together. Our expert speakers shared valuable insights into IBL's vision, strategy, and success story in East Africa and Kenya. Jorsen T. M. Patten, a Senior Executive, also joined the event, further enriching the discussions.
The event kicked off with a networking session, allowing attendees to connect and interact with IBL's top management. The presentation was followed by an engaging question-and-answer session, where attendees had the opportunity to delve deeper into the topics discussed and seek clarifications from the esteemed speakers. The event concluded with a networking breakfast, fostering further connections and collaborations among the participants.
The French Chamber of Commerce extends its sincere appreciation to IBL together for partnering with us and making this event a true success. We also extend our gratitude to Anjarwalla & Khanna | ALN for hosting the event in their offices.
The "Meet the CEO" event with IBL together proved to be a resounding success, leaving a lasting impact on all those in attendance. The French Chamber of Commerce in Kenya would like to thank everyone who participated and invites members and stakeholders to stay tuned for upcoming events.
Thank you to all in attendance!
---
🔹 About IBL
IBL is a diversified group based in Mauritius with world-class expertise. It is listed on the Stock Exchange of Mauritius. They work and invest in 9 industries over 287 companies in 18 countries worldwide. From their Kenyan office, IBL invests in various business sectors including retail, healthcare and energy.
🔹 About ANJARWALLA & KHANNA | ALN KENYA
ANJARWALLA & KHANNA | ALN KENYA is a leading law firm in Kenya that provides a wide range of legal services to clients across various sectors. The firm has a team of experienced lawyers who specialise in areas such as corporate law, mergers and acquisitions, banking and finance, and dispute resolution, among others.