Event report
Launch of the Energy Business Committee: Empowering Collaboration in the Energy Sector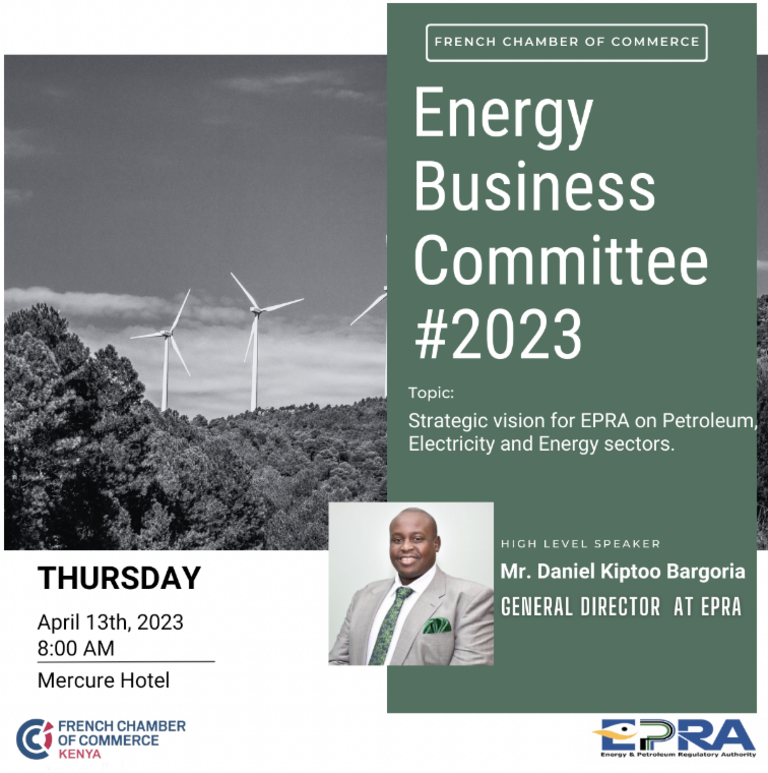 Past Event ⎢In partnership with EPRA
Nairobi, 13th April 2023 - The French Chamber of Commerce, in collaboration with the Energy and Petroleum Regulatory Authority (EPRA), celebrated a highly successful event at the Mercure Nairobi Hotel. The occasion marked the official launch of the Energy Business Committee, a strategic initiative spearheaded by our esteemed Chairman, Othmane Chaoui. The event was graced by the presence of Mr. Daniel Kiptoo Bargoria, the General of EPRA, who served as the guest of honor.
The event witnessed a diverse gathering of industry experts, business leaders, and stakeholders from the energy sector in Kenya. Mr. Bargoria delivered a captivating presentation, providing attendees with an insightful overview of the energy landscape in Kenya. He shed light on EPRA's vision and strategic priorities, offering valuable insights into the current and future direction of the sector.
The establishment of the Energy Business Committee holds great significance as it aims to create a platform for collaboration and knowledge sharing among members involved in or interested in the energy industry. This committee will facilitate the exchange of experiences, business opportunities, and partnerships while enabling the dissemination of relevant sectoral information and best practices.
The French Chamber seeks to emphasised the importance of collaboration and cooperation in the energy sector, highlighting the committee's role in fostering strong relationships and driving sustainable growth.
We want to extend our sincere appreciation to Mr. Daniel Kiptoo Bargoria for his presence and valuable contribution to the event. His expertise and insights provided a deeper understanding of the challenges and opportunities within the Kenyan energy sector.
For more information about the Energy Business Committee and upcoming events, please visit the French Chamber of Commerce website, committee section.