Healthcare Committee: Enhancing the Quality of Care in Kenya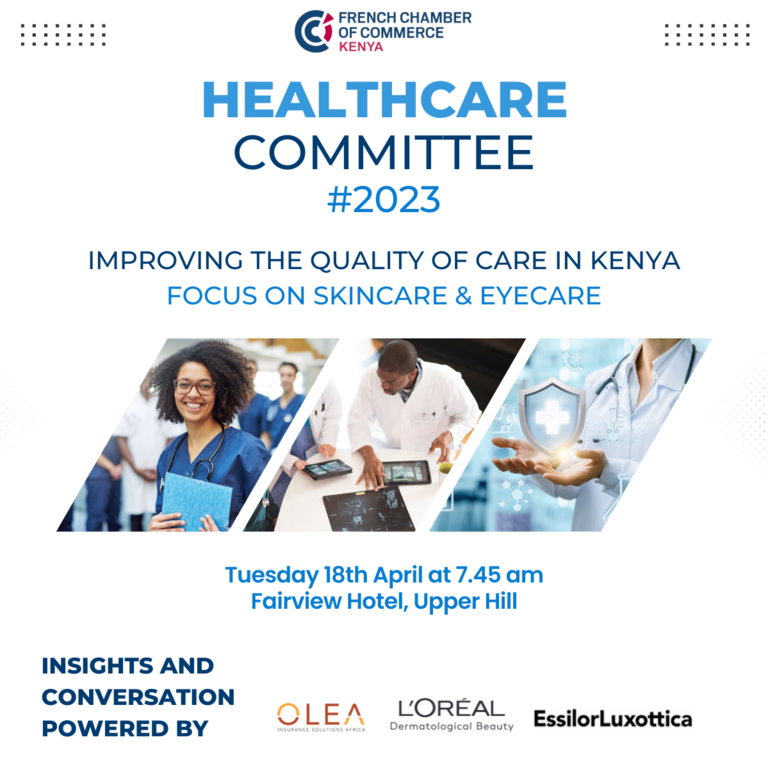 Past Event⎢In partnership with sector experts
The French Chamber of Commerce is pleased to announce the successful launch of the first session of our #2023 Healthcare Business Committee, held on Tuesday, 18th of April, at the Fairview Hotel in Upper Hill.

The Healthcare Committee was on the theme of "Improving the Quality of Care in Kenya and Beyond." Its purpose is to create a platform where healthcare professionals, insurance providers, and authorities can come together, network, interact, share best practices, and raise awareness about the importance of quality care.
The first session of the committee focused on skincare and eye care, recognising their significance in the overall well-being of individuals. By bringing together experts from the healthcare sector, the event fostered collaboration and knowledge exchange, encouraging participants to explore innovative approaches to enhance healthcare practices & gain knowledge.
This Committee featured guest speakers from leading organisations in the healthcare industry. We extend our gratitude to Anthony Mwangi Wachira, Managing Director of OLEA Insurance Solutions Africa, for his valuable insights into the insurance aspect of healthcare. Edouard Homasson, Division General Manager of L'Oréal Dermatological Beauty East Africa, shared his expertise in skincare, emphasising the importance of dermatological care in enhancing overall well-being. Dr. Hashim Kaderbhai, Consultant Dermatologist and Section Head of Dermatology at Aga Khan University Hospital, East Africa.
The eye-care segment was enriched by the presence of Frederic Narassiguin, General Manager East Africa, and Joseph Mweru, Commercial Senior East Africa, both from EssilorLuxottica, a global leader in eyewear and vision care. Mishal Verjee, Optometrist and Director of The Eye Room.

The French Chamber Team wanted to expresses its appreciation to all the guest speakers, participants, and partners who contributed to the success of the Healthcare Business Committee's first session!
---
🔹About OLEA Insurance Solutions Africa
OLEA is a Pan-African insurance broker based in 24 countries across the continent. Their team has extensive knowledge of Africa's insurance and business environment, allowing them to provide tailor-made risk management and insurance broking solutions.
🔹About L'Oréal Dermatological Beauty East Africa
L'OREAL EAST AFRICA LTD is a leading global cosmetics company that provides a wide range of beauty and personal care products to the East African market. Their products include haircare, skincare, makeup, and fragrances.
🔹About EssilorLuxottica
ESSILOR is a French company that specialises in the design, production, and distribution of ophthalmic lenses, frames, and sunglasses. In Kenya, Essilor provides high-quality optical products to consumers and also works with eye care professionals to promote eye health and education.