Event report
French Chamber of Commerce Hosts Successful High-Level IMF Breakfast Meeting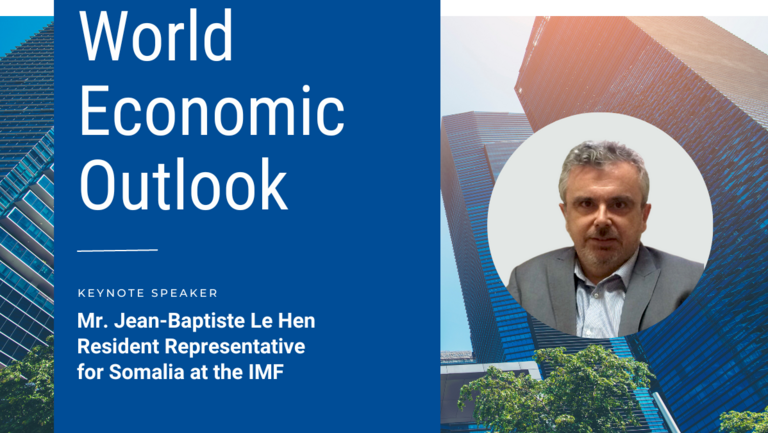 Past Event ⎢In partnership with the IMF
19th April 2023 - The French Chamber of Commerce is delighted to announce the resounding success of its recent high-level breakfast meeting. On Wednesday, esteemed speaker Jean-Baptiste Le Hen, the IMF Resident Representative for Somalia, captivated our members with his presentation on the International Monetary Fund's (IMF) latest reports, focusing on the World Economic Outlook 2023.
The breakfast meeting provided an exceptional opportunity for chamber members to gain valuable insights into the global economy's current and future trajectory, with a specific focus on the influence of geopolitics. Jean-Baptiste Le Hen shared key findings from the IMF's World Economic Outlook report, enabling attendees to develop a deeper understanding of the economic landscape and its potential impacts on businesses and investments.
The meeting was not limited to the World Economic Outlook alone; it also featured the presentation of the sub-Saharan Regional Economic Outlook Report. This report shed light on the challenges faced by Sub-Saharan Africa in its recovery process and provided crucial information about the economic prospects of the region.
The French Chamber of Commerce expresses its sincere appreciation to Jean-Baptiste Le Hen for his insightful presentation and for sharing the IMF's latest research findings with the chamber's members. Mr. Le Hen's expertise and in-depth analysis contributed to a comprehensive understanding of the global economic landscape.
The chamber looks forward to hosting more engaging events in the future, offering opportunities for thought-provoking discussions and networking. These gatherings aim to contribute to the growth and development of the business community by providing valuable insights and fostering meaningful connections.
To stay informed about upcoming events and activities organised by the French Chamber of Commerce, join our community! Be part of the ongoing conversation that shapes the future of our business landscape in Kenya!
---
🔹About the IMF
The International Monetary Fund (IMF) is a global financial institution that promotes economic stability and sustainable growth worldwide. With 190 member countries, the IMF provides policy advice, financial assistance, and capacity development to address economic challenges. It conducts economic surveillance, offers financial support during crises, and conducts research to contribute to global understanding of economic trends and policies. Collaborating with other international organizations, the IMF plays a crucial role in shaping the global economic landscape and reducing poverty.