Event report
East Africa Panel | AfCFTA Regional e-Conference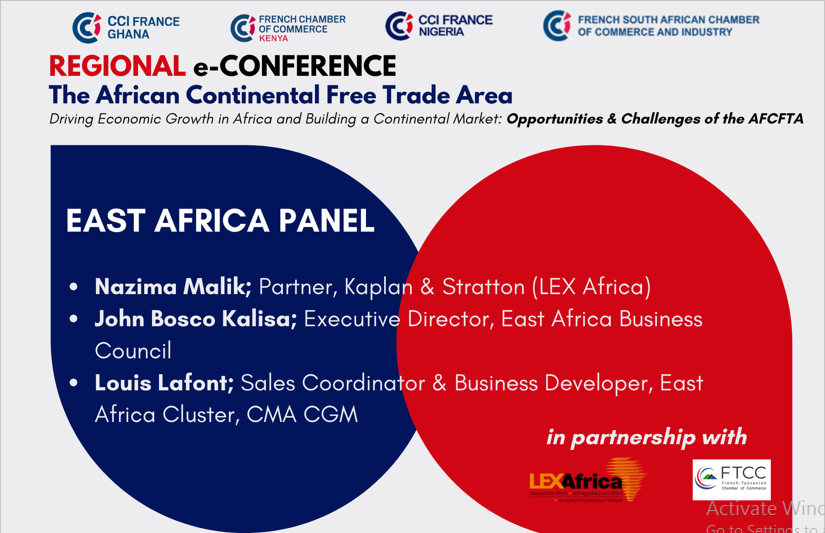 During the East Africa session of AfCFTA Regional e-conference, Our regional experts Mrs. Nazima Malik, Partner at Kaplan & Stratton (LEX Africa), Mr. John Bosco Kalisa, Executive Director of the East Africa Business Council, Louis Lafont, Sales Coordinator & Business Developer, East Africa Cluster, CMA CGM unpacked the business opportunities unlocked by the AfCFTA and its legal/tax implications in the context of the East African Region among other topics.
About LEX Africa
LEX Africa is a legal network of leading law firms in over 25 African countries and is Africa's largest legal alliance. Each member is an independent law firm whose key specialist focus is on general corporate and commercial law as well as litigation and dispute resolution.
Kaplan & Stratton, member of the LEX Africa network will provide the legal expertise on our East Africa Panel.
Kaplan & Stratton is a premier law firm providing a comprehensive range of legal services and solutions for domestic and international clients. The firm has a reputation as one of the leading law firms in the East African region. International and cross-border work forms an important part of our business.
Access the Video Recording (only for members)
Access the presentation (only for members)