Event report
Breakfast meeting⎢Doing Business in Tanzania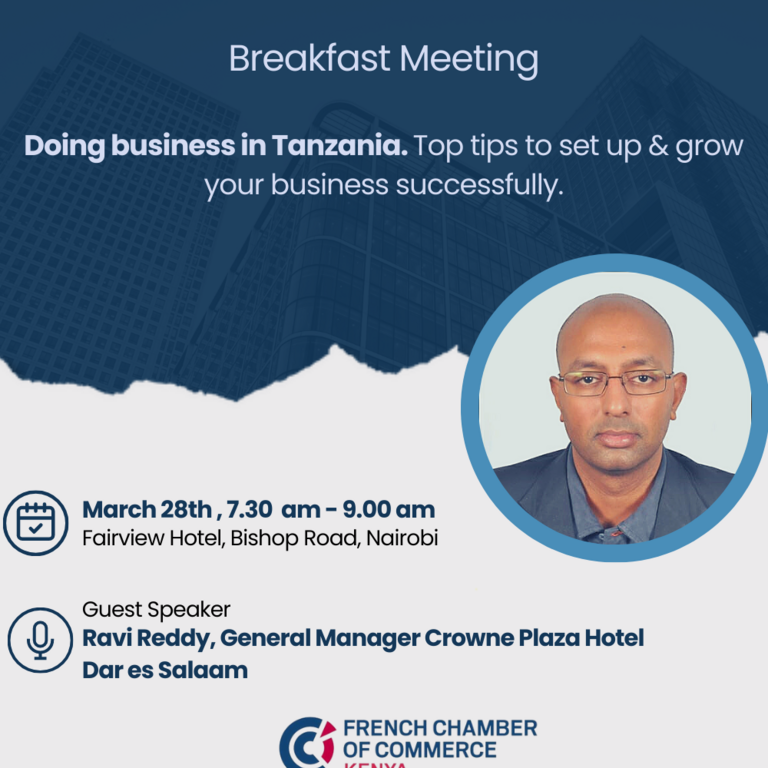 Insights from the French Chamber of Commerce's Event on Doing Business in Tanzania.

The French Chamber of Commerce organised an event on the topic of Doing business in Tanzania, this Tuesday 28th of March 2023. The General Manager at Crowne Plaza in Dar es Salam, Ravi Reddy, led an open discussion during the breakfast meeting, providing attendees with valuable tips on how to successfully set up and grow their businesses in Tanzania.
The event was a success, providing attendees with valuable insights and practical advice for doing business in Tanzania. With the right approach and support, businesses can take advantage of this dynamic and promising market.
Speaker Ravi Reddy, General manager at Crowne Plaza in Dar es Salam.
According to General Manager at Crowne Plaza in Dar es Salam, here are some of the key takeaways from the event:
The country has a stable and growing economy, with a focus on agriculture, mining, and tourism.
Given the complexity of the process, it's wise to enlist professional assistance when setting up a business in Tanzania to navigate legal and regulatory requirements.
Obtaining a working permit in Tanzania can take 2 to 6 months, depending on various factors such as the type of permit and the processing time of the authorities.
Tanzania is a rapidly growing market, offering many opportunities for foreign investors, particularly in the tourism, mining, and energy sectors.
Thank you to all who attended and a special thanks to our speaker, Ravi Reddy, General Manager of Crowne Plaza Dar es Salaam and Grace Joram, Sales Manager of Crowne Plaza Dar es Salaam who also accompanied the meeting.
---
Located off Biti Titi Mohammed street on the corner of Magore and Vijibweni street in Upanga, Dar Es Salaam the largest city in Tanzania, the 148 room Crowne Plaza is 13 Kilometers from the Julius Nyerere International airport and close to the main point's of cultural, social and business interests. These includes the Askari monument, Aura mall, Golf course, National museum and lush botanical gardens are within easy reach of the hotel.