Agro-Tech Panel Discussion & Afterwork on Ensuring Food Security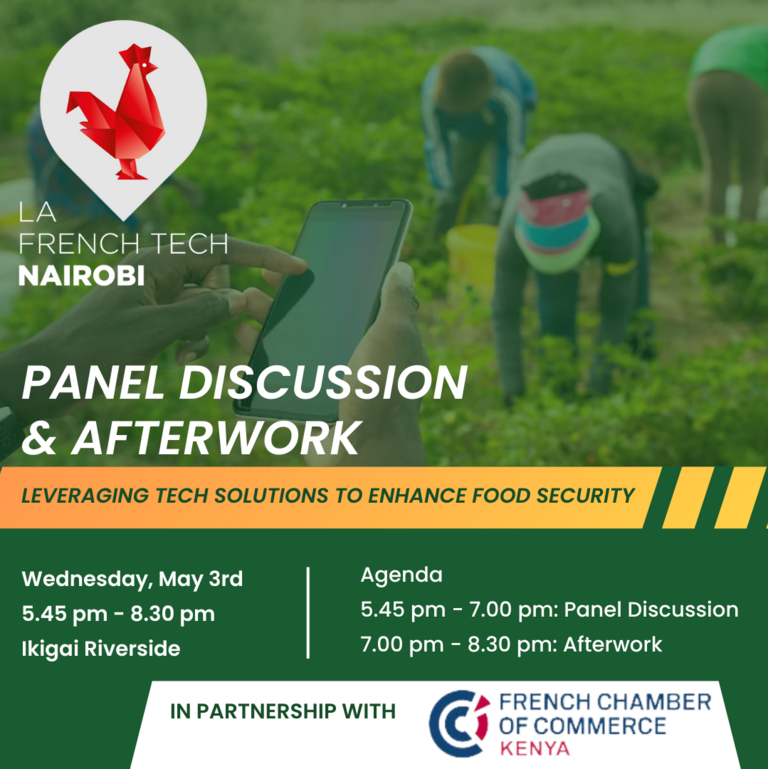 Past event⎢In partnership with la French Tech Nairobi
Nairobi, 3rd March 2023- The French Chamber of Commerce Kenya, in partnership with La French Tech Nairobi, recently organized a captivating Panel Discussion and Afterwork event centered around the theme of leveraging technology solutions to enhance food security for French and Kenyan agro-companies.
Taking place on Wednesday, 3rd March, the event brought together industry experts, innovators, and entrepreneurs to delve into the intersection of agriculture and technology in addressing the pressing challenges of food security. The Panel Discussion, expertly moderated by Benjamin GASS, General Manager at Savana Seeds Ltd and a Silver Member of the French Chamber, featured an impressive lineup of speakers who shared their invaluable insights and experiences.
The French Chamber extends its heartfelt appreciation to Vincent Abt, Barthélémy Cabouat, Paul Bombo, Vincent Koech, and Victor Manyengo for their invaluable contributions to the discussion. Their expertise and perspectives shed light on the vast potential of agro-tech solutions in driving sustainable food production and ensuring food security for nations.
A special thank you goes to Victor Otieno Agolla, County Chief Officer, for gracing the occasion and providing his support. His presence highlighted the significance of collaboration between government bodies and the private sector in effectively addressing food security challenges.
The French Chamber of Commerce Kenya is thrilled to collaborate with La French Tech Nairobi in organizing events that foster innovation, entrepreneurship, and knowledge-sharing. This partnership reflects our shared vision of supporting the growth and development of the agro-tech ecosystem in Kenya, where technology-driven solutions play a vital role in shaping the future of agriculture.
The French Chamber expresses its gratitude to all the attendees who joined us for the Panel Discussion and Afterwork event on this insightful occasion. Their active participation and engagement contributed to the depth of discussions and the overall success of the event.
---
🔹 About La French Tech Nairobi
La French Tech Nairobi is a vibrant community of entrepreneurs, innovators, and tech enthusiasts, dedicated to promoting the growth and visibility of French startups and tech companies in Kenya. Serving as a platform for collaboration, networking, and knowledge-sharing, La French Tech Nairobi drives innovation and fosters a supportive ecosystem for the agro-tech sector and beyond.