Insightful Webinar: Analysis of Finance Bill 2023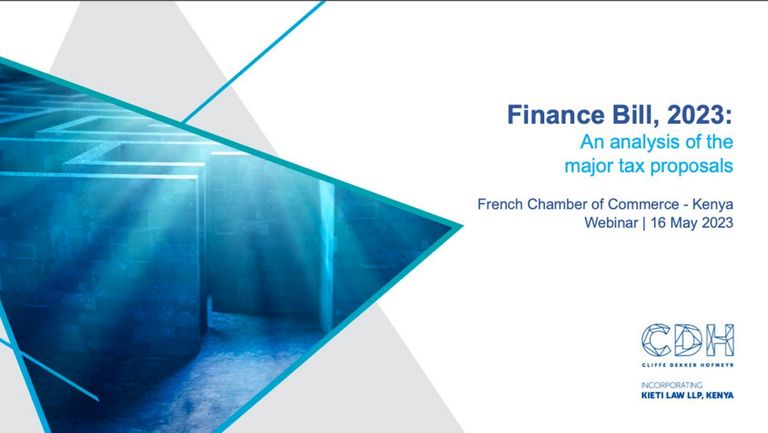 Past Event⎢In partnership with CDH
16th, May- The French Chamber of Commerce Kenya, in partnership with Cliffe Dekker Hofmeyr Inc, hosted an insightful webinar on the 'Analysis of Finance Bill 2023.' The webinar provided participants with a comprehensive understanding of the proposed tax measures outlined in the Finance Bill, ensuring they are well-equipped to navigate the changes and maintain compliance.
The webinar covered several other key topics, including the Income Tax Act, Value-Added Tax (VAT), Excise Duty Act, Tax Appeals Tribunal Act, Tax Procedures Tax, and Miscellaneous Fees and Levies Act. Each topic highlighted specific proposed changes and their implications for businesses.
The French Chamber of Commerce Kenya extends its appreciation to all the attendees who participated in the webinar. Special thanks are given to Cliffe Dekker Hofmeyr Inc and speaker Alex Kanyi, Partner at CDH, for their invaluable presentation and collaboration.
Key Highlights about the webinar
During the webinar, attendees gained valuable insights into key topics discussed:
Economic Outlook:
• Projection of 5.3% real GDP growth rate for 2023 under the IMF program.
• Identification of various economic shocks, including the Russia and Ukraine War, global inflation, drop in aid, high debt service obligation, falling forex reserves, high government expenditure, depreciating value of the Kenya shilling, and prolonged drought.

Budget Vs. Revenue:
• Discussion on the current budget and tax revenue collected.
• The government's target to collect an additional 0.7 trillion Kenyan shillings within three months.
• Future tax revenue targets for the upcoming fiscal year 2023-2024.

Finance Bill, 2023:
• Overview of the Finance Bill, tabled in Parliament on May 4, 2023.
• Request for comments on the bill by May 20, 2023.
• Effective dates for the bill's implementation.
• Proposed amendments to various tax laws.
Thank you to all in attendance!
---
🔹About CDH
CDH KENYA is a leading Kenyan law firm that provides personalised legal services of the highest quality in key specialist areas of practice. Their lawyers have been involved in market leading transactions including advising on banking and finance matters, corporate and commercial transactions, employment law, capital markets, project finance, environmental law and energy and intellectual property in a wide range of sectors.