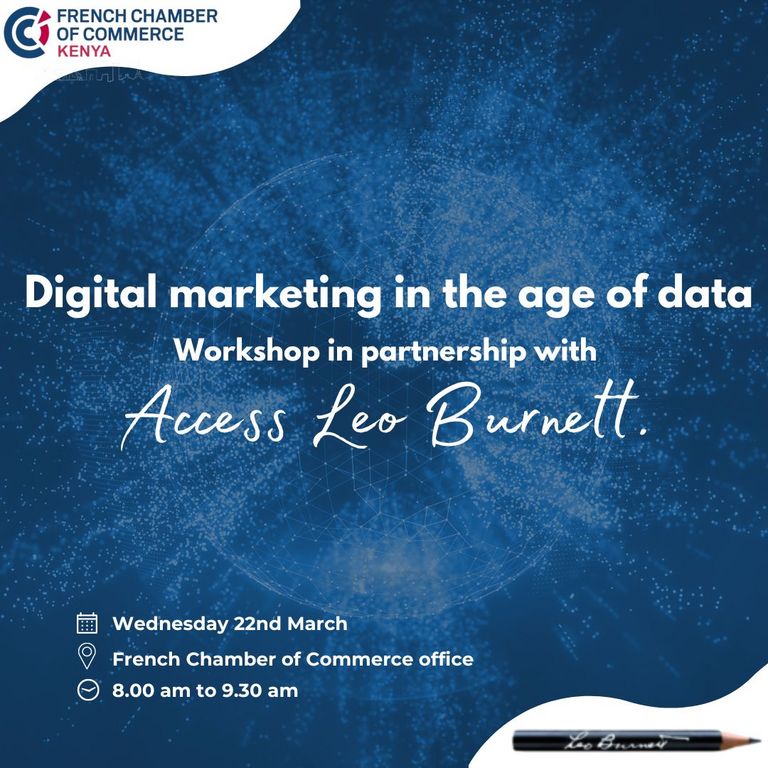 A successful online presence is essential to your company's growth. This is the digital era, where digital meets profit, and your business shouldn't be left out. How can you take full advantage of the digital world? What are the best practices you should learn & implement in your business?

We are happy to introduce this new Digital Marketing Workshop in partnership with Access Leo Burnett, the East African hub agency for Publicis.
Digital marketing in the age of data
Wednesday 22nd March
8.00am to 9.30am
The French Chamber Office, Delta Riverside, Bloc 3, Floor 2
Our guest speaker will be Mark Ngoloma, Head of Strategy at Access Leo Burnett.
Access was founded in 1979 and joined joined Leo Burnett in 2000 to become Access Leo Burnett. With this, they became partners in the Publicis Group, currently the world's most valuable communications group. As the hub agency for East Africa, Access Leo Burnett services clients in the region for Leo Burnett, Starcom and their affiliates Saatchi & Saatchi, Publicis and DigitasLBi. They provide full service integrated communication solutions i.e. advertising, media planning and buying, brand development, digital marketing, below the line services (activations and events) and public relations.