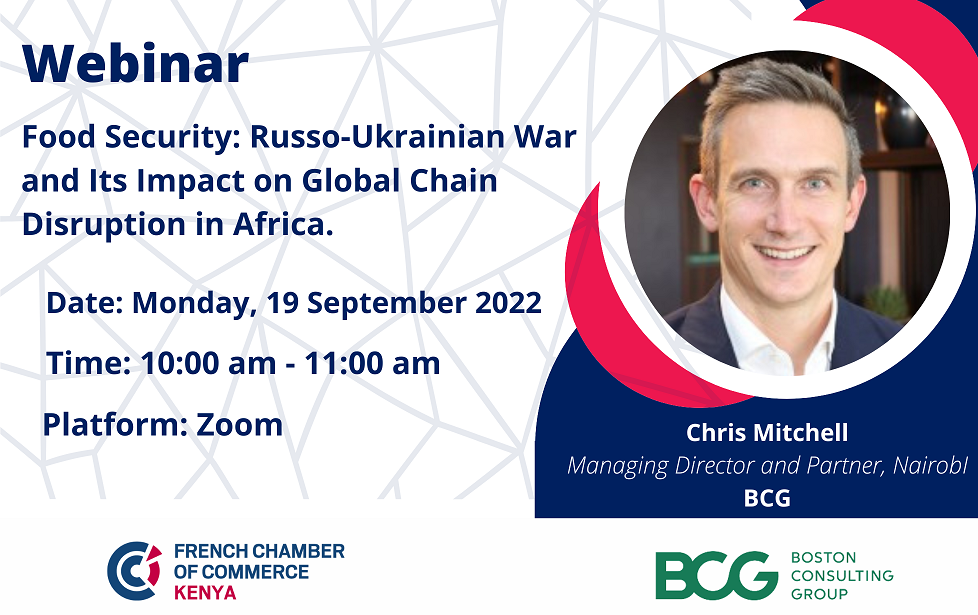 Food Security: Russo-Ukrainian War and Its Impact on Global Chain Disruption in Africa
Monday 19th September 2022,
10.00 am to 11.00 am

The current food crisis has many interconnected drivers which are only now becoming more clear and more concerning. In this webinar, Chris Mitchell, Managing Director & Partner at Boston Consultancy Groupwill take us through the effects of the Russo- Ukrainian war on the food supply chain on a global and cast a spotlight on its effect on Africa and Kenya in particular. Chris will also table potential actions that can be taken by both the public and private sector to repair the global food system to make it more responsive in times of need.

Boston Consulting Group is a global consulting firm that partners with leaders in business and society to tackle their most important challenges and capture their greatest opportunities. Their success depends on a spirit of deep collaboration and a global community of diverse individuals determined to make the world and each other better every day.

Webinar is free for all attendees.
Boston Consulting Group (BCG)