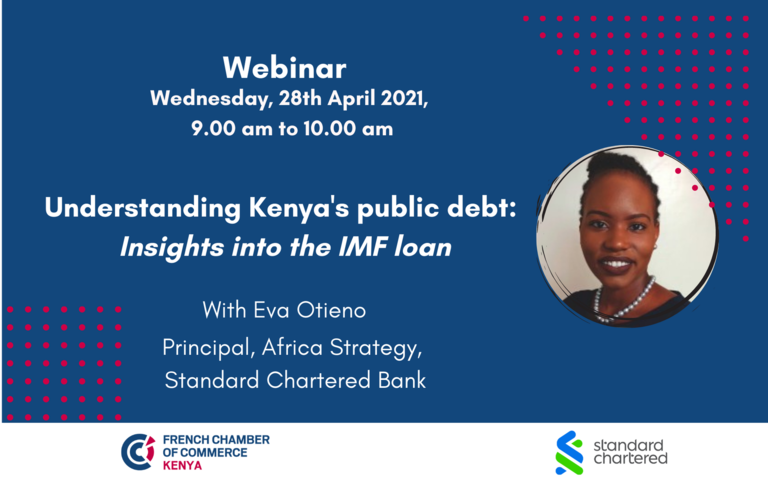 Join us for our upcoming webinar:

Understanding Kenya's public debt - Insights into the IMF loan
Wednesday, 28th April 2021,
9.00 am to 10.00 am.

In the recent weeks, we have seen a lot of discussion centred around Kenya's public debt and specifically on the recently approved International Monetary Fund (IMF) loan to Kenya. Despite this, people still have lingering questions about the loan. Our upcoming webinar led by Eva Otieno; Principal, Africa Strategy at Standard Chartered Bank seeks to demystify the IMF loan subject. Come learn more on the structure of this loan, its impact to the Kenyan Economy and perspectives from the experts at Standard Chartered Bank.

Standard Chartered Bank is a multinational and financial services company which operates a network of over 1000 branches and outlets across more than 70 countries.
Member Price: Free // Non Member Price: Kshs 1,000
Kindly follow the steps below to make your payment if you are not a member of the French Chamber:
1.Make your payment via Mpesa - use paybill (business number 771082) and Account name - (the name of your company) or by Cheque (addressed to The French Society in Kenya).
2. Send an email to contact@frenchchamber.co.ke informing us of your payment
3. Your registration will be confirmed soon after