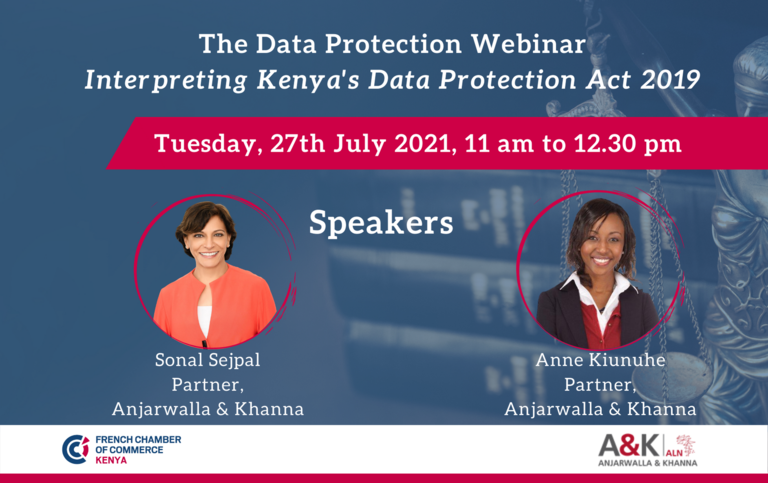 The Data Protection Webinar: Interpreting Kenya's Data Protection Act 2019
Tuesday, 27th July 2021,
11.00 am to 12.30 pm

The Data Protection Act, 2019 (the DPA) has far-reaching implications on the manner in which personal data is required to be handled. Given its wide applicability, the DPA is set to affect operations across all sectors of commerce where personal data is handled and also imposes civil and criminal sanctions for non-compliance with its provisions.

During the webinar; Sonal Sejpal, partner at Anjarwalla & Khanna and Anne Kiunuhe, partner at Anjarwalla & Khanna will explain what is outlined in the Act and the implications of the Act to your business.

Anjarwalla & Khanna LLP (A&K) is the largest corporate law firm in Eastern Africa, with over 100 lawyers, and is generally considered the leading full-service corporate law firm in Kenya. A&K is also the founding member of ALN, an alliance of leading corporate law firms in fifteen key African jurisdictions and the UAE.
Member/VIE Price : Free
Non Member Price: Kshs 1,000
Kindly follow the steps below to make your payment if you are not a member of the French Chamber:
1.Make your payment via Mpesa - use paybill (business number 771082) and Account name - (the name of your company) or by Cheque (addressed to The French Society in Kenya).
2. Send an email to contact@frenchchamber.co.ke informing us of your payment
3. Your registration will be confirmed soon after