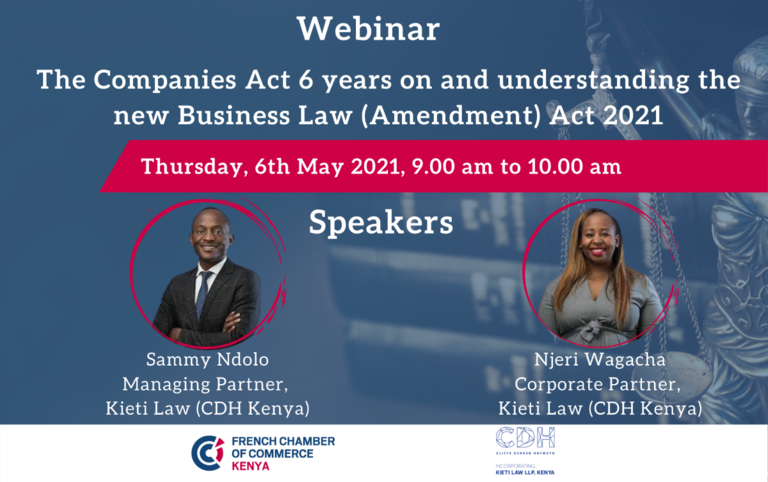 Join us for our upcoming webinar:

The Companies Act 6 years on and understanding the new
Business Law (Amendment) Act 2021
Thursday, 6th May 2021.
9.00 am to 10.00 am.

The Companies Act was signed into law in 2015 with the intention of streamlining business in Kenya. 6 years later, in March 2021, the Business Laws (Amendment) Act, 2021 was officially signed into law. The aim of the amendment: to further facilitate the ease of doing business in Kenya.

During the webinar; Sammy Ndolo, Managing Partner at Kieti Law (CDH Kenya) and Njeri Wagacha, Corporate Partner at CDH Kenya will discuss the Companies Act, 6 years later. They will also help you understand what the new Amendment Act means for your business.

Do you have any questions concerning the above subject? Please indicate your question as you register and it shall be answered during the webinar.

CDH Kenya is a leading Kenyan law firm that provides personalised legal services of the highest quality in key specialist areas of practice. CDH Kenya run a monthly Q&A and discussion podcast @Njeritalkslaw, hosted by Njeri Wagacha, which disseminates topical legal issues in an informal setting.
Member Price: Free // Non Member Price: Kshs 1,000
Kindly follow the steps below to make your payment if you are not a member of the French Chamber:
1.Make your payment via Mpesa - use paybill (business number 771082) and Account name - (the name of your company) or by Cheque (addressed to The French Society in Kenya).
2. Send an email to contact@frenchchamber.co.ke informing us of your payment
3. Your registration will be confirmed soon after