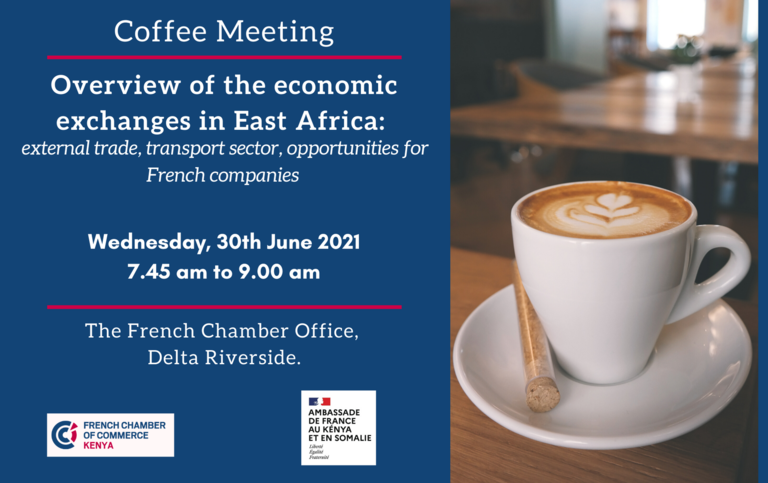 Join us for our upcoming coffee meeting:

Overview of the economic exchanges in East Africa: external trade, transport sector, opportunities for French companies
Wednesday, 30th June 2021,
7.45 am to 9.00 am.
The French Chamber Office, Delta Riverside.

The regional economic department of the French Treasury will give an overview of how the economic exchanges are organized in East Africa. It will cover the external trade structure of the different countries of the region. The talk will then outline some key facts and figures about the transport sector in the region, including infrastructure networks (ports, road or railways) and logistic services. The presentation will also cover the main issues and opportunities for French companies through public procurement, private investment or public private partnerships.

Speakers:
Sary ZOGHELY, Louis BERTRAND, Mathieu ECOIFFIER & Claire FISNOT; Economic department for East Africa and the Indian Ocean, French Treasury

Kindly note that in respect to measures against the spread of COVID-19, the maximum number of participants will be limited to 15 (priority given to members).

Member/ VIE Price: Free
Non Member Price: Kshs 1,500
Kindly follow the steps below to make your payment if you are not a member of the French Chamber:
1.Make your payment via Mpesa - use paybill (business number 771082) and Account name - (the name of your company) or by Cheque (addressed to The French Society in Kenya).
2. Send an email to contact@frenchchamber.co.ke informing us of your payment
3. Your registration will be confirmed soon after