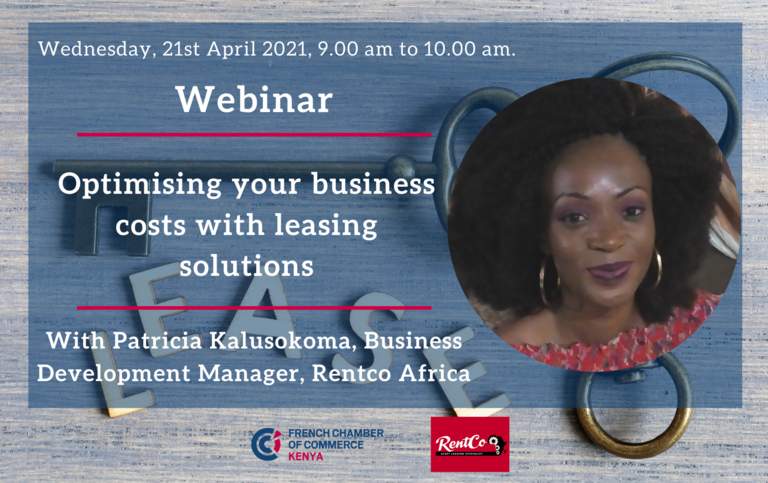 Join us for our upcoming webinar with RentCo Africa:

Optimising your business costs with leasing solutions
Wednesday, 21st April 2021,
9.00 am to 10.00 am.

With the rising cost of doing business, it has become crucial for companies to adopt innovative ways to minimise operational costs while still maintaining or improving the quality of output. How can you achieve this for your company? Join us in our upcoming webinar where Patricia Kalusokoma, Business Development Manager at RENTCO Africa ltd will answer the above question and share insights on the various leasing solutions that you can adopt. You will also learn on the many benefits you will gain in taking this approach including tax benefits, faster productivity, technology advancement and much more.

RENTCO Africa ltd is the leading leasing solutions company in the Eastern and central part of Africa and rapidly growing across the continent. They are an independent lessor; meaning that they can lease all forms of movable and immovable assets, working with marquee brands and original equipment manufacturers.
Member Price: Free // Non Member Price: Kshs 1,000
Kindly follow the steps below to make your payment if you are not a member of the French Chamber:
1.Make your payment via Mpesa - use paybill (business number 771082) and Account name - (the name of your company) or by Cheque (addressed to The French Society in Kenya).
2. Send an email to contact@frenchchamber.co.ke informing us of your payment
3. Your registration will be confirmed soon after