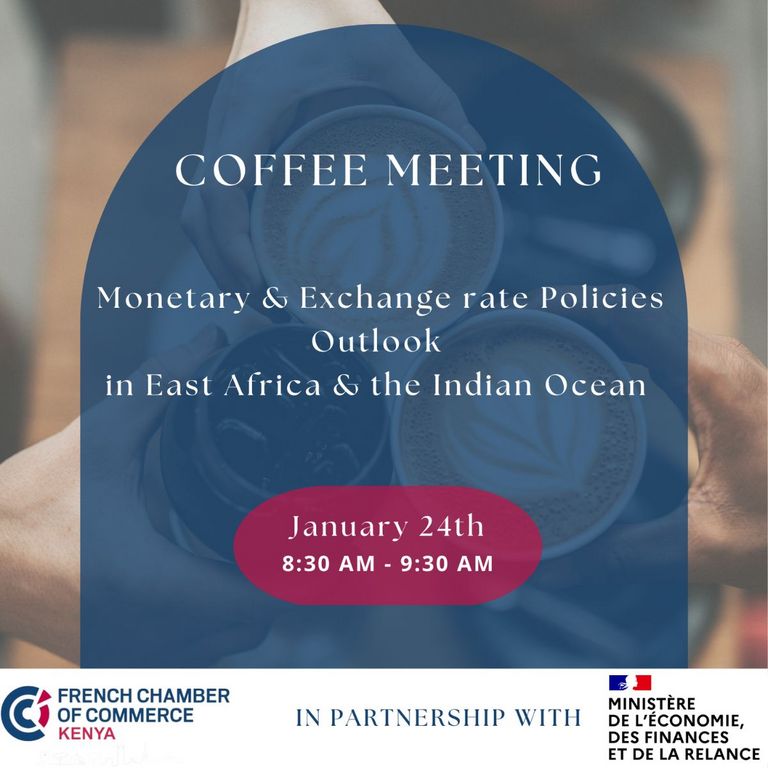 The French Chamber of Commerce is delighted to invite you to its upcoming coffee meeting

Monetary & exchange rate policies outlook in East Africa & the Indian Ocean
Tuesday, 24th January 2023
8.30 am to 9.30 am
The French Chamber Office, Delta Riverside, Bloc 3, Floor 2

Join us for an insightful conversation around monetary & exchange rates policies
in East Africa & the Indian Ocean with expert speakers from
the French Regional Economic Department at the French Embassy.
- Mrs. Héloise TOURNOUX, Regional Financial Counsellor
- Mrs. Justine MELOT, Development & Financial Officer

The rise in inflation in 2022 in all East Africa & Indian Ocean countries, following the Covid-19 crisis and the war in Ukraine, has tested the capacity of countries in the region to respond to external shocks. Rising international prices for food, energy and fertilizers have resulted in imported inflation, which monetary policy has little control over. Depending on the level of development of the country, the domestic market and the financial sector, and on the exchange rate regime, the central banks in the region employed different strategies to counter the inflation. Transmission of monetary policies to the real economy remains however constrained by structural factors and limited access to forex reserves.