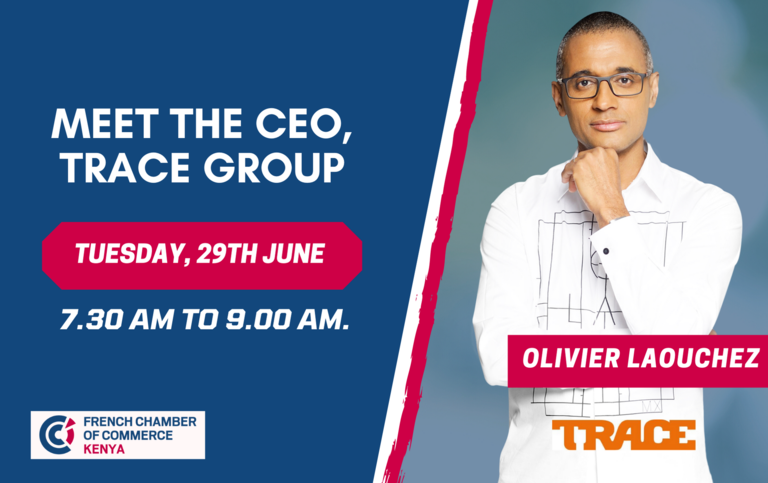 Building a global media platform, from an entertainment company to an empowerment factory.

Meet the CEO
Olivier Laouchez, Co-Founder, Chairman & CEO of TRACE Group
Tuesday, 29th June 2021,
7.30 am to 9.00 am.
Sankara Hotel, Nairobi

TRACE is the first global media platform that leverages afro-urban entertainment to connect &
empower the new generation and the creators.

TRACE is present in 160+ countries and engages with 300 Million users, leveraging the power
and the creativity of Hip Hop, Urban, African, Brazilian and Caribbean culture.

With in-house development, production, financing, media, digital, distribution and branding
capabilities, combined with the subversive spirit of independent creators, TRACE collaborates
with both emerging and established talents to generate premium afro-urban content and
leading digital platforms for a potential captive audience of 400M super fans in its 7 priority
markets: Africa, France, UK, USA/Canada, Brazil, Caribbean and Indian Ocean.

Kindly note that in respect to measures against the spread of COVID-19, the maximum number of participants will be limited to 20 (priority given to members).

Member/ VIE Price: Free
Non Member Price: Kshs 2,000
Kindly follow the steps below to make your payment if you are not a member of the French Chamber:
1.Make your payment via Mpesa - use paybill (business number 771082) and Account name - (the name of your company) or by Cheque (addressed to The French Society in Kenya).
2. Send an email to contact@frenchchamber.co.ke informing us of your payment
3. Your registration will be confirmed soon after