Breakfast meeting with CFAO Motors Kenya Limited.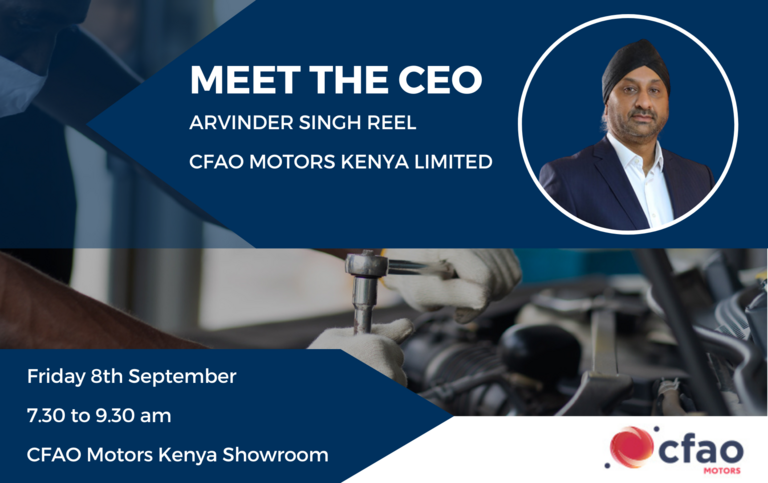 We are delighted to invite you to our upcoming "Meet the CEO" breakfast meeting!

Join us for an insightful conversation with Mr. Arvinder Singh Reel, Managing Director at
CFAO Motors Kenya Limited, followed by a private tour of their showroom.

Friday, 8th September 2023
7.30 am to 9.30 am

CFAO Group holds a prominent position in Africa in various sectors including mobility, healthcare, consumer goods, infrastructure, and energy. The Group's mobility arm provides a range of passenger and commercial vehicles, trucks, motorcycles, tyres, and handling equipment from 53 global brands.

CFAO Motors Kenya Limited, a Platinum member of the French Chamber and a subsidiary of the CFAO Group, is currently the sole distributor and service provider of Toyota, Yamaha motorcycles, Volkswagen, Suzuki, Mercedes Benz passenger, trucks and buses, Hino, Hyundai light trucks and Sinotruk (Howo), as well as Winpart (value parts) and Autofast quick service stations. They also partner with leading international brands that cover the entire value chain – imports, wholesale, retail, logistics, and production – in line with the highest quality standards, drawing on nearly 170 years of knowledge and local expertise.
Don't miss this high-profile networking event!
A great opportunity to learn more about CFAO Motors Kenya Limited's mission, vision and strategy and interact with one of Kenya's leading CEOs!