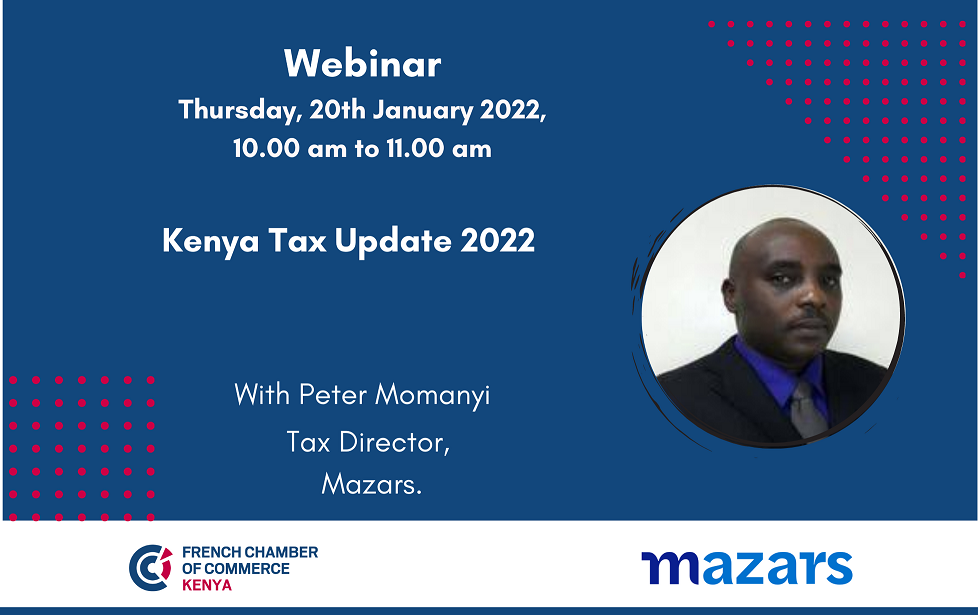 Happy New Year!
The French Chamber of Commerce is pleased to invite you for our first event of the year:

Kenya Tax Update 2022
Thursday, 20th January
10.00 a.m. to 11.00 a.m.

The event will be led by Peter Momanyi, Tax Director at Mazars. Peter will share insights on the changes and the new requirements that your company should be aware of in regards to Tax in Kenya as well as areas that could impact foreign companies.

Mazars is a leading international audit, tax and advisory firm. They provide a full range of assurance, taxation and advisory services in the areas of information technology, business development, corporate strategy and human resources. Their services include specialised assignments for government, parastatals, private sector and donor agencies.

Member Price: Free
Non Member Price: Kshs 1,000
Kindly follow the steps below to make your payment if you are not a member of the French Chamber:
1.Make your payment via Mpesa - use paybill (business number 771082) and Account name - (the name of your company) or by Cheque (addressed to The French Society in Kenya).
2. Send an email to contact@frenchchamber.co.ke informing us of your payment
3. Your registration will be confirmed soon after