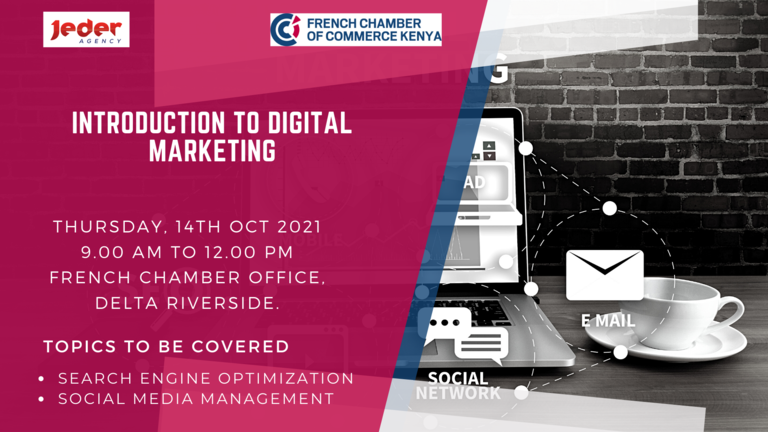 The need for your business to be visible online and connect with potential customers cannot be emphasisised enough. As a result, most business have established their online presence to ensure that they are not left out. However, what are the best practices that you should learn to fully benefit from digital media?

We are happy to introduce the first module of our Digital Marketing Training Service in partnership with Jeder Agency:

Introduction to Digital Marketing
Thursday, 14th October from 9.00 am to 12 noon
The French Chamber Office, Delta Riverside.

The session will be Led by Ian Kuria Maina, Web Designer & Digital Strategist at Jeder Agency.
Ian is a certified Digital Marketing Expert by the Digital Marketing Institute in Ireland and a Web Designer with a degree in computer science from Strathmore University. He is also the founder of Jeder Agency; a website design & search engine optimization (SEO) Agency.

In respect to measures against the spread of Covid-19, the maximum number of participants will be limited to 10.

Member Price: Kshs 8,500+VAT
Non- Member Price: Kshs 10,500+VAT
You can learn more about the session here
Kindly follow the steps below to make your payment:
1.Make your payment via Mpesa - use paybill (business number 771082) and Account name - (the name of your company) or by Cheque (addressed to The French Society in Kenya).
2. Send an email to contact@frenchchamber.co.ke informing us of your payment
3. Your registration will be confirmed soon after