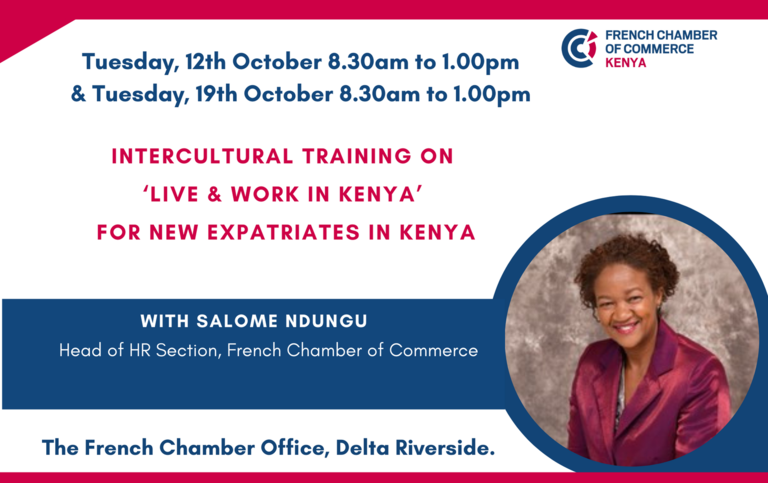 Join us for our upcoming training session:

Intercultural training on 'Live & work in Kenya' for new expatriates in Kenya
Tuesday, 12th October from 8.30 am to 1.00 pm
&
Tuesday, 19th October from 8.30 am to 1.00 pm
The French Chamber Office, Delta Riverside.

The French Chamber has organised an Intercultural training session to assist you understand the cultural environment in Kenya. The session will be Led by Salome Ndung'u, Head of HR Section, French Chamber of Commerce and is ideal for new expatriates who have been in the country for 1 to 12 months.

Salome is a certified cultural consultant by Berlitz-TMC International and a certified coach training facilitator by Corporate Coach UniversityUnited Kingdom. She has over ten years experience in facilitating cultural training workshops.

Format
The training session will take place in (2) half day sessions; each session from 8.30am to 1.00pm.
To achieve maximum benefit from the training we advise you to attend both sessions.

In respect to measures against the spread of Covid-19, the maximum number of participants will be limited to 10.

Member Price: Kshs 21,500+VAT
Non- Member Price: Kshs 26,000+VAT

You can learn more about the session here
Kindly follow the steps below to make your payment:
1.Make your payment via Mpesa - use paybill (business number 771082) and Account name - (the name of your company) or by Cheque (addressed to The French Society in Kenya).
2. Send an email to contact@frenchchamber.co.ke informing us of your payment
3. Your registration will be confirmed soon after