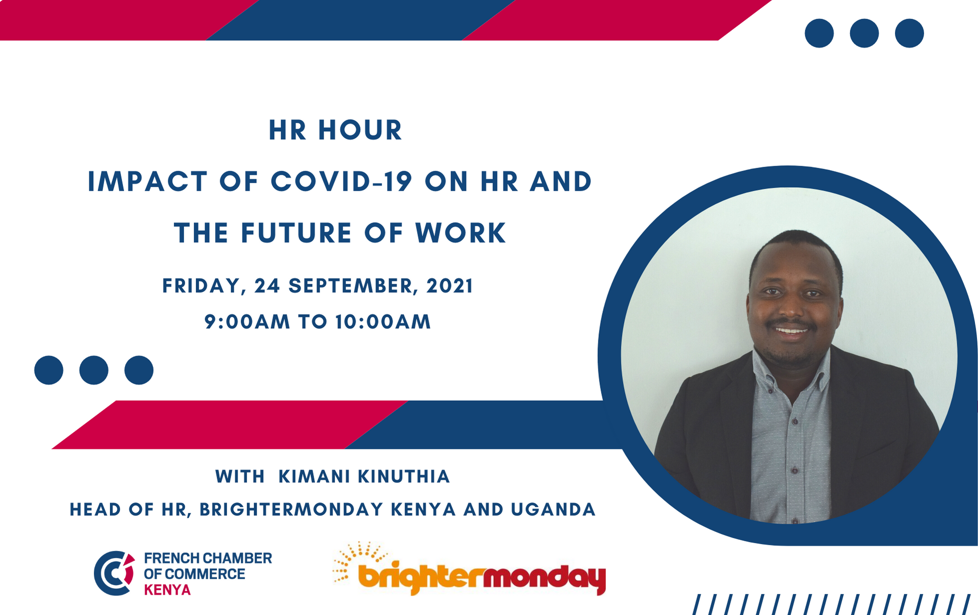 Join us for our upcoming webinar:

HR Hour - Impact of COVID-19 on HR and the Future of Work
Friday 24th September, 2021
9.00 am to 10.00 am

With the onset of COVID19, the HR sector faced an unexpected disruption that gave birth to a new way of working. To better understand the extent of the disruption and the future of work brought about by Covid19, BrighterMonday conducted an extensive research on the above subject and published a report on the same. We have collaborated with BrighterMonday to share with you the findings of their study.

Drawing from the study, Kimani Kinuthia, Head of HR, BrighterMonday Kenya and Uganda will share with you an overview of the effects of covid to the HR sector, the major trends that have come up, insights on what will form the future of work and tips on how organisations and job seekers can well align themselves to this future.
BrighterMonday Kenya, East Africa's leading online HR and recruitment platform, has for the past 15 years leveraged data to develop a portfolio of solutions that make recruitment simple, quick and effective. With this strategy, they have helped over 40,000 businesses to attract and onboard the right people.

Additionally, they document real-time data on the employment sector and share relevant research to empower businesses to make more informed decisions.