We mark the end of the Insightful week with a discussion on Impacts and Corporate Social Responsibility and an evening of Beaujolais Nouveau Cocktail.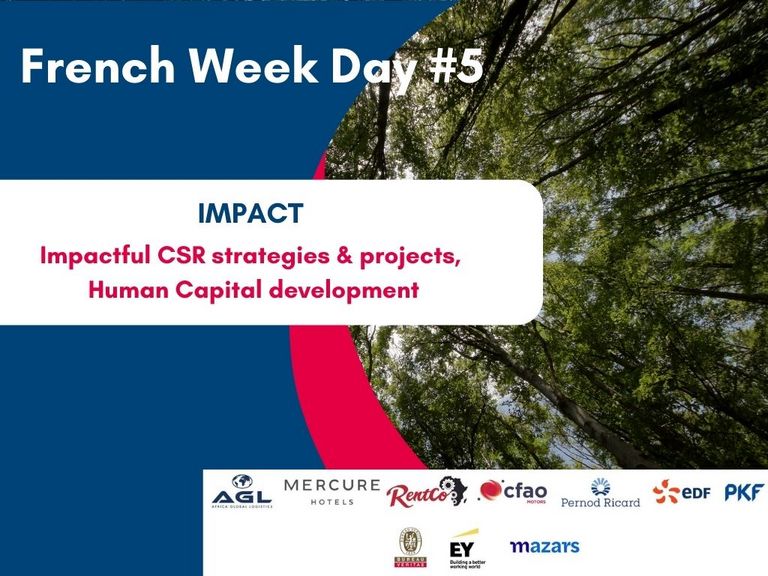 For the last day of the French Week 2023, we are delighted to invite you to a half-day seminar focused on Impact! Join us as we will discuss impactful CSR strategies, new HR trends, and Human Capital.
Impactful CSR Strategies & Human Capital Development
Inspiring actions from public & private players
Friday 17th November 2023
7.30 am to 12.15 pm
This event aims to provide an open platform for sharing insights, experiences, and innovative ideas regarding CSR initiatives. A great opportunity to engage in meaningful discussions, network with like-minded professionals, and explore practical strategies for integrating CSR into your corporate culture.
Agenda
8.00 am: Opening address -Using your brand and platform to make an impact
Presentation #1 -Carlotta Dal Lago, Head of Business Development, Marketing and Communication at ALN Kenya
8.30 am: Meet the CEO -Focus on Carrefour's impact in Kenya
Presentation #2 -Christopher Orcet, Regional Director at MAF Carrefour
9.45 am: Environmental & Social impact - French-funded projects in Kenya
Presentation #3 -TBC
10.15 am:-Environmental & Social impact - French Business Community & Acted Access to Water Project
Presentation #4-TBC
11.00 am: - Roots Institute Centre
Presentation #5:Constance Fromont, Founder at Roots Centre Institute
11.15 am: Roundtable - Investing in Human Capital, the rise of people-centric companies
Panelists:
Carol Koech, GM East Africa at Schneider Electric
Matthieu Clavier, CFO at L'Oréal East Africa
Clemence Kimathi, Talent and Culture Manager at Mercure & Pullman Hotels (Accor Group)
Mohit Kappoor, Managing Director at Bamburi Cement
Elizabeth Kariuki, HR Manager Nairobi at AGL Group
Eric Ndaita, Store Leader at Decathlon Kenya
Moderators Caroline Englund, Founder, Empactive Solutions, and Rosa Nduati-Mutero, Managing Partner, ALN Kenya

Mandatory registration before Thursday 16th November at 12.00 noon.