On the fourth day, we unlock the vast Investment Opportunities in Kenya!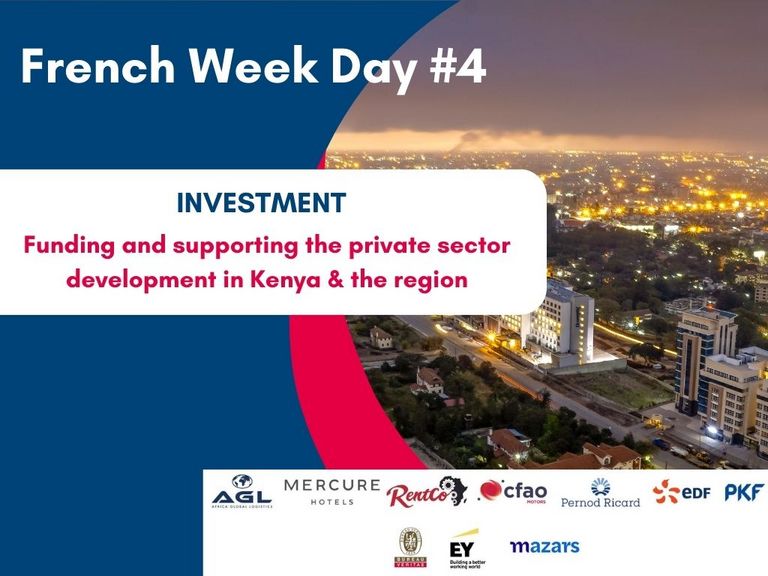 Welcome to the 4th Day of the French Week!
On Day 4, we will focus on the private sector investment landscape. What are the sectors of interest for foreign investors? What are the opportunities and challenges to unlock? Is there a new investment paradigm in these uncertain times? Here are a few of the topics we will discuss with our expert speakers.
Funding and supporting the private sector development in Kenya
Opportunities & Challenges
Thursday 16th November
7.30 am - 12.15 pm
Agenda
8.00: Welcome address by Othmane Chaoui, Chairman, French Chamber of Commerce
8.15: Keynote speech by PS Abubakar Hassan Abubakar, State Department for Investment Promotion - TBC
8.45: Presentation by Njeri Wagacha, Partner, at CDH
Private Equity Landscape in East Africa and Future Prospects
9.15: Roundtable #1
Unlocking investment opportunities in Kenya: new frontiers, new opportunities
Agathe Roudot, Export Trade Advisor, at Business France
June Chepkemei, Ag. Managing Director, at KenInvest
Frank Ndiyo, Investment Director, at Amethis
Mourad Chouiqa, Head - Eastern & Southern Africa, at Bpifrance
Jorsen Patten, COO East Africa Operations, at IBL
Moderator: Mrs. Laure Paugam, Executive Director of the FCCK
10.45: Roundtable #2
Bridging profit & purpose, the new investment paradigm?
Audrey Maignan, Regional Director, at Proparco
Pierre Fauvet, Managing Director Africa, at Creadev
Hella Bennani, ESG, at IFC
Dennis Keya, Country Manager, at EDF
Moderator: Njeri Wagacha, Partner, at CDH
12.00 pm: Closing remarks by Mrs. Laure Paugam, Executive Director of the FCCK
Kindly register before Wednesday 15th November at 12.00 pm