Join us for the second day of the French Week!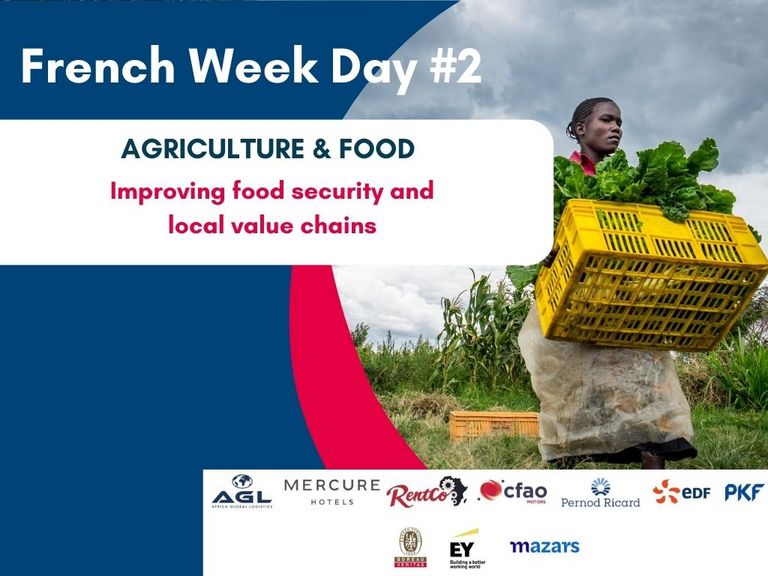 On the second day, we will focus on the Agribusiness space with in-depth discussions on food security and agri-food value chains with expert speakers from the public and private sectors.
Improving food security through win-win partnerships and local value chains
Tuesday 14th November 2023
7.45 am - 12.00 pm noon.
In partnership with the Agro Club - French Embassy.
Agenda
8.15: Welcome address by Laure Paugam, CEO of, the French Chamber of Commerce
8.30: Keynote speech by Hon. PS Jonathan Mueke, State Department for Livestock Development
9.00: Roundtable #1
Addressing food security challenges through enhanced bilateral cooperation
Panelists:
Dr. Dominic Menjo, Food Security Advisor to the President of Kenya
Teddy Bukkhala, Investment Officer for East Africa Proparco
Michelle Kagari, Senior Director - Government Relations and Policy at Once Acre Fund
Bimal Kantaria, CEO at Elgon & Chairman, Asnet
John Sassel, Business Developer Sub-Saharan Africa, IMV technologies
Cyril Ferrand, Resilience Team Leader for Eastern Africa, FAO
Moderator: Jacqueline Khanali Njonjo, Africa Food Safety Program Lead, IFC
10.30: Roundtable #2
Developing the agri-food value chain in Kenya, opportunities and challenges
Nche Wadike, Chief Technology & Operations Officer at Victory Farms
Cyprian Kabbis, District Chief Executive Eastern Africa at Bureau Veritas
Sriram Bharatam, Founder & Chief Mentor at Kuza
Nine Ayoub, Managing Director at Lesaffre Kenya
Moderator:Mourad Chouiqa, East Africa Director, BPI France
Capacity is limited. Kindly register before Monday 13th November at 12.00 pm noon.