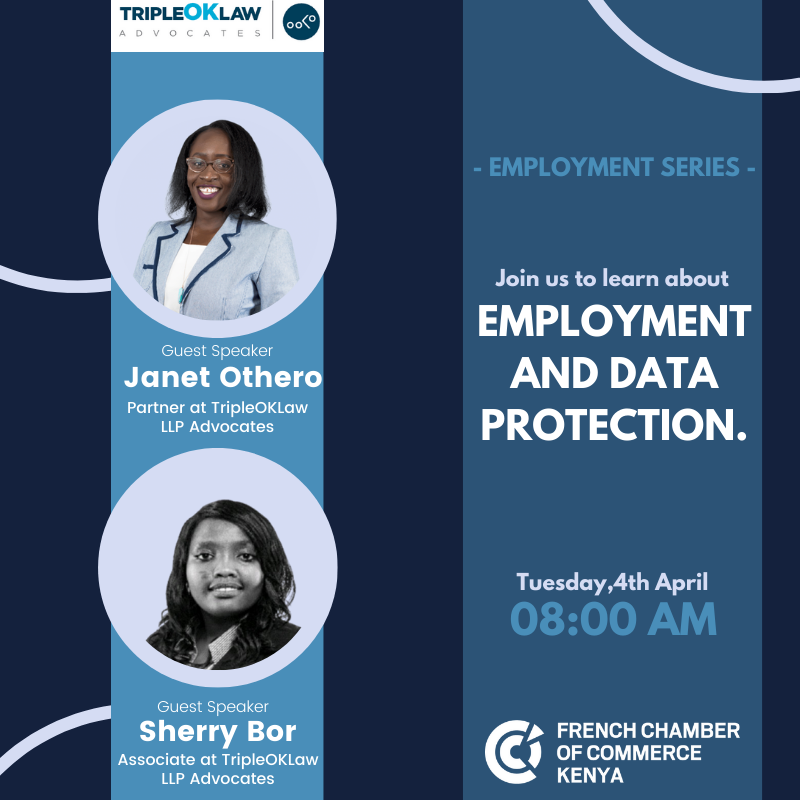 The French Chamber in partnership with TripleOKLaw LLP is pleased to invite you to an exclusive breakfast meeting on the theme:

Employment and Data Protection
Tuesday, 4th April 2023
8.00 am to 9.30 am
Golden Tulip Westlands Nairobi, 65 Muthithi Rd, Nairobi

The event will be led by Janet Othero, Partner and Sherry Bor Associate at TripleOKLaw LLP, who will place emphasis on how human resource practitioners can enshrine data privacy practices' in their daily operations and protect personal data in the workplace.

TripleOKLaw LLP is an acclaimed and robust leading law firm in Kenya established over 18 years ago. They are committed to providing excellent legal services, in and out of court, during and after transactions. The team is known for being meticulous, hardworking, ethical, and professional. TripleOKLaw LLP is a firm believer in the power of innovation for the purpose of making business easier and more efficient. Beyond the basic "expected" legal services, they also offer specialist independent advisory and advocacy referral services. They aggressively pursue the best possible outcomes for clients and consider putting in that extra effort simply part of "Going Over and Above".