Guest of Honour Hon. Betty C. MAINA, Cabinet secretary, Ministry of Industrialization, Trade, and Enterprise Development.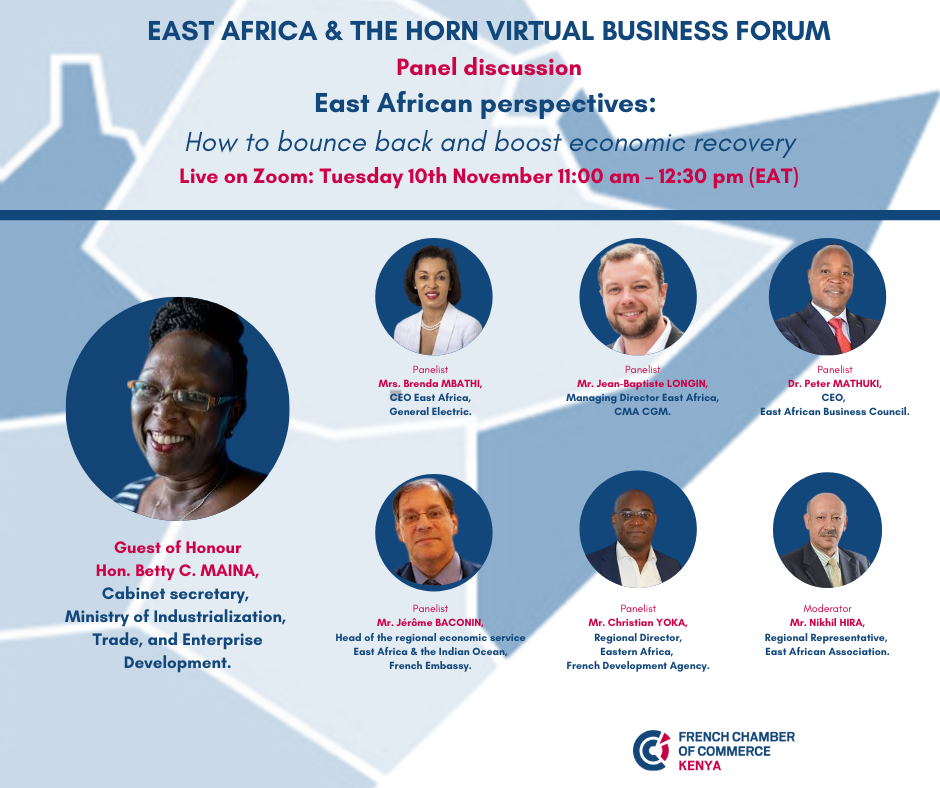 Over the past years, East Africa and the Horn of Africa have become lands of opportunities for the French as well as international companies and investors. These regions' increased interest has been contributed by their growing population, major infrastructure projects, agricultural strength, and more generally; significant economic growth.
As a result, the countries located in this region have further invested and committed themselves to improve their 'ease of doing business'. However, like everywhere in the world, their economies are now facing the challenges and impacts of the global pandemic.
Kickstarting the business forum will be a panel discussion; East African perspectives: How to bounce back and boost economic recovery. During this panel discussion, our expert panelists will share a general overview on the economic Impact that covid has had to the East African Region and insights on how businesses can bounce back and boost economic recovery.
Guest of Honour
Hon. Betty C. MAINA, Cabinet secretary, MINISTRY OF INDUSTRIALIZATION, TRADE AND ENTERPRISE DEVELOPMENT.
Panelists
Mr. Jerome Baconin, Head of the Regional Economic Service East Africa & the Indian Ocean, FRENCH EMBASSY.
Mr. Christian Yoka, Regional Director Eastern Africa, AFD.
Dr. Peter Mathuki, CEO, EAST AFRICAN BUSINESS COUNCIL.
Mrs. Brenda Mbathi, CEO East Africa, GENERAL ELECTRIC.
Mr. Jean-Baptiste Longin, Managing Director East Africa Cluster, CMA CGM.
Moderator
Mr. Nikhil Hira, Regional Representative, EAST AFRICAN ASSOCIATION.