A French Chambers in Africa & LEX Africa Partnership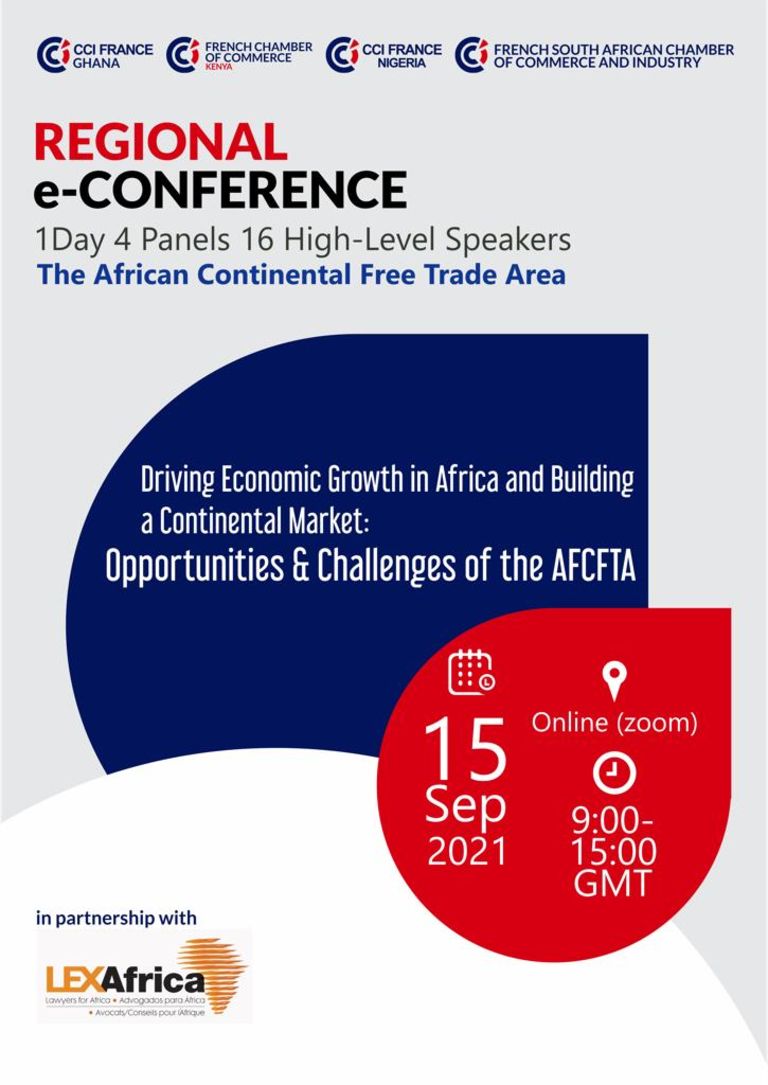 The French Chamber of Commerce in Kenya is partnering with the South African, Ghanaian and Nigerian French Chambers, as well as our partner LEX Africa, a leading regional law firm network, and the newly accredited French Tanzanian Chamber of Commerce, to unpack the implementation and opportunities of the AfCFTA under the theme 'Driving economic growth in Africa through a continental market: challenges & opportunities of the AfCFTA', as part of an online regional conference to take place on Wednesday 15th of September 2021.
In light of the upcoming African investment conferences and at a time where a drive for economic recovery is needed, this high-level regional event will feature an inaugural panel and 3 regional sessions:

IN PARTNERSHIP WITH:

About the East Africa Panel
Join us at 2:00 PM EAT as we unpack the business opportunities unlocked by the AfCFTA and its legal/tax implications in the context of the East African Region with our regional experts:
Mrs. Nazima Malik, Partner at Kaplan & Stratton (LEX Africa)

Mr. John Bosco Kalisa, Executive Director of the East Africa Business Council

Louis Lafont, Sales Coordinator & Business Developer, East Africa Cluster, CMA CGM

With the participation of our partner in the sub-region: French Tanzanian Chamber of Commerce
REGISTER TO THE EAST AFRICA PANEL
About LEX Africa
LEX Africa is a legal network of leading law firms in over 25 African countries and is Africa's largest legal alliance. Each member is an independent law firm whose key specialist focus is on general corporate and commercial law as well as litigation and dispute resolution.
Kaplan & Stratton, member of the LEX Africa network will provide the legal expertise on our East Africa Panel.
Kaplan & Stratton is a premier law firm providing a comprehensive range of legal services and solutions for domestic and international clients. The firm has a reputation as one of the leading law firms in the East African region. International and cross-border work forms an important part of our business.
IN PARTNERSHIP WITH