East African perspectives: Towards regional economic integration in East Africa: prospects, challenges and opportunities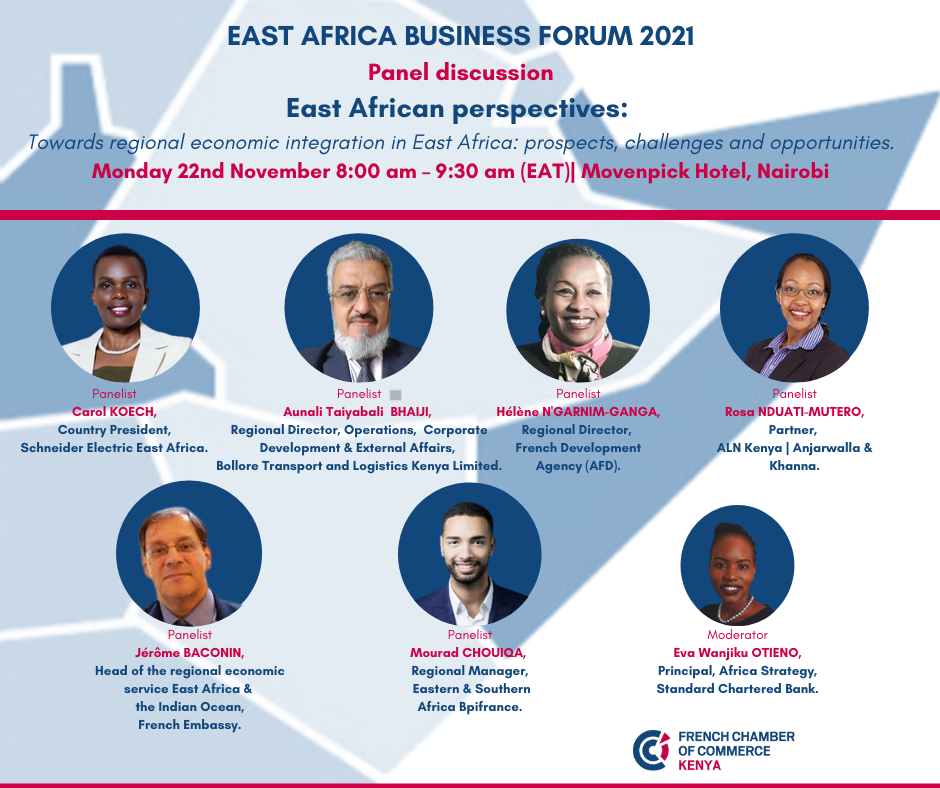 The East Africa region has grown to be a vital area of interest to the French as well as international companies and investors. These regions' growing population, major infrastructure projects, agricultural strength, and generally; their significant growth have all contributed to the increased interest.
Leveraging on this opportunity, the countries located in this region are continuously improving their 'ease of doing business'. The region, like everywhere in the world, however faced a drawback to the growth of its economy as a result of the COVID19 pandemic.
Join us for the second edition of our annual business forum: the East Africa Business Forum 2021. This three-day business forum will feature 2 in-person panel discussions that will take place in Nairobi and 5 country focus webinars.
Opening the business forum will be a panel discussion where our expert panelists will expound on the prospects, challenges and opportunities around regional economic integration in East Africa.
Panelists
Aunali Taiyabali BHAIJI, Regional Director, Operations, Corporate Development and External Affairs, Bollore Transport and Logistics Kenya Limited.

Carol KOECH, Country President, Schneider Electric East Africa.

Hélène N'GARNIM-GANGA, Regional Director, French Development Agency (AFD).

Jérôme BACONIN, Head of the regional economic service East Africa & the Indian Ocean, French Embassy.

Mourad CHOUIQA, Regional Manager, Eastern & Southern Africa Bpifrance.

Rosa NDUATI-MUTERO, Partner, ALN Kenya | Anjarwalla & Khanna.
Moderator
Eva Wanjiku OTIENO, Principal, Africa Strategy, Standard Chartered Bank.
Location: Movenpick Hotel, Mkungu Close, Off Parklands Rd, Nairobi.
Member Price: Free Non- Member Price: Kshs 1,500
Kindly follow the steps below to make your payment if you are not a French Chamber Kenya Member:
1.Make your payment via Mpesa - use paybill (business number 771082) and Account name - (the name of your company) or by Cheque (addressed to The French Society in Kenya).
2. Send an email to contact@frenchchamber.co.ke informing us of your payment
3. Your registration will be confirmed soon after