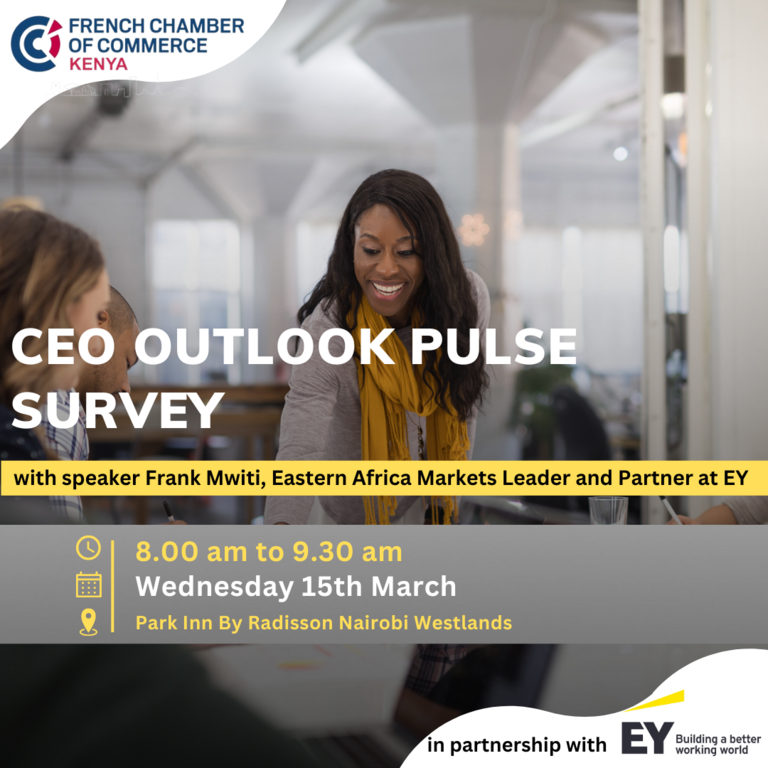 The French Chamber of Commerce is happy to invite you to its upcoming breakfast meeting.

How will CEOs respond to a new recession reality?
Key outputs from EY's latest CEO Outlook Pulse
Wednesday 15th March
8.00 am to 9.30 am
Park Inn By Radisson, Waiyaki Way, Nairobi
Moderate vs. severe; temporary vs. persistent. Divergent views on the economic outlook among global CEOs underline the uncertainty that looks set to define the business environment in 2023. EY's Global CEO Outlook Pulse - January 2023 survey of 1,200 CEOs finds that while almost half of respondents foresee a moderate slowdown in the global economy, more than half fear a recession worse than the global financial crisis in terms of its length and severity.
The session will be led by Frank Mwiti, Eastern Africa Markets Leader & Partner at EY.
Frank is the East Africa Markets Leader responsible for the top line growth of the firm across Advisory, Transactions, Assurance and Tax services. He has over 20 years of experience in Strategy, M&A, Governance and Execution of large complex transformational programs in Banking, Private Equity, Technology, Manufacturing, Energy and Telecommunications.