Are you interested in broadening your horizons, growing your network, and exploring new business prospects around real estate in Mauritius?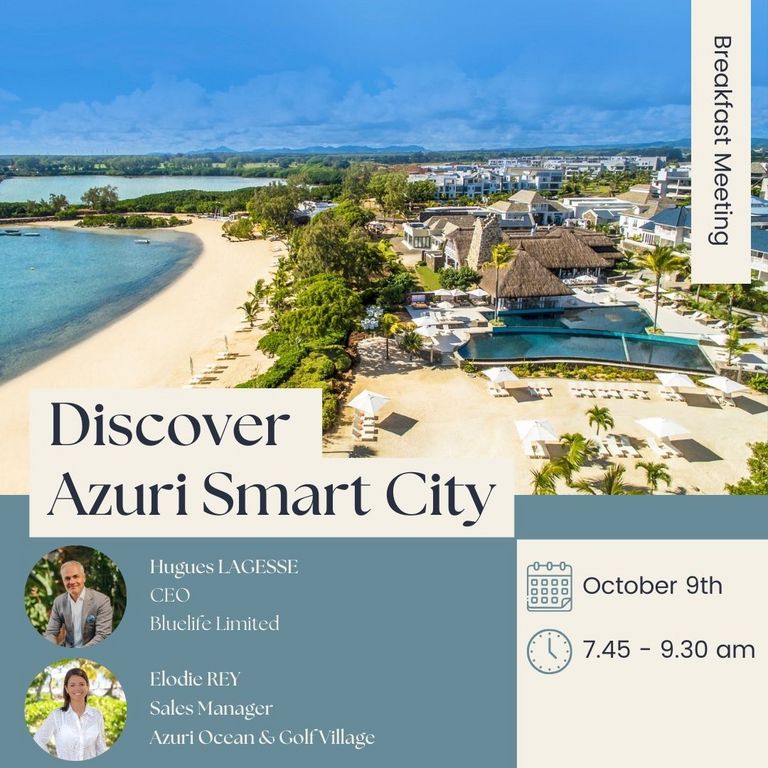 The French Chamber of Commerce in Kenya, in partnership with ALN Kenya | Anjarwalla & Khanna, is pleased to invite you to a presentation of Azuri, a Smart City developed on the North-East coast of Mauritius, on the occasion of the visit to Kenya of the project's executive team.

Monday 9th October
7.45 am to 9.30 am
A major real estate development initiated 10 years ago, Azuri is a unique community in Mauritius, with a lifestyle blending conviviality and convenience. Offering a high quality living environment by the sea, Azuri has been designed to provide 5* hospitality, leisure and retail facilities. The complex includes 387 residences already built, 100 more in construction, 1 hotel managed by Radisson Blu, a golf course, a Montessori school, as well as restaurants, shops, sports facilities... And more to come! Azuri has been developed and managed by bluelife, one of the leading real estate companies in the Indian Ocean region, part of the IBL Group.
This breakfast meeting is a great opportunity to expand your horizons and network, as well as learn more about the real estate market in Mauritius and potential business opportunities.
Agenda
7.45 - 8.15 am > Registration and networking breakfast
8.15 - 8.30 am > Opening remarks by Amyn Mussa, Partner at ALN Kenya | Anjarwalla & Khanna
8.30 - 9.15 am > Presentation of Azuri by Hugues Lagesse, CEO at bluelife Ltd, and Elodie Rey, Sales Manager at Azuri
9.15 - 9.30 am > Q&A and closing remarks by FCCK