Risk Management Strategies for your Business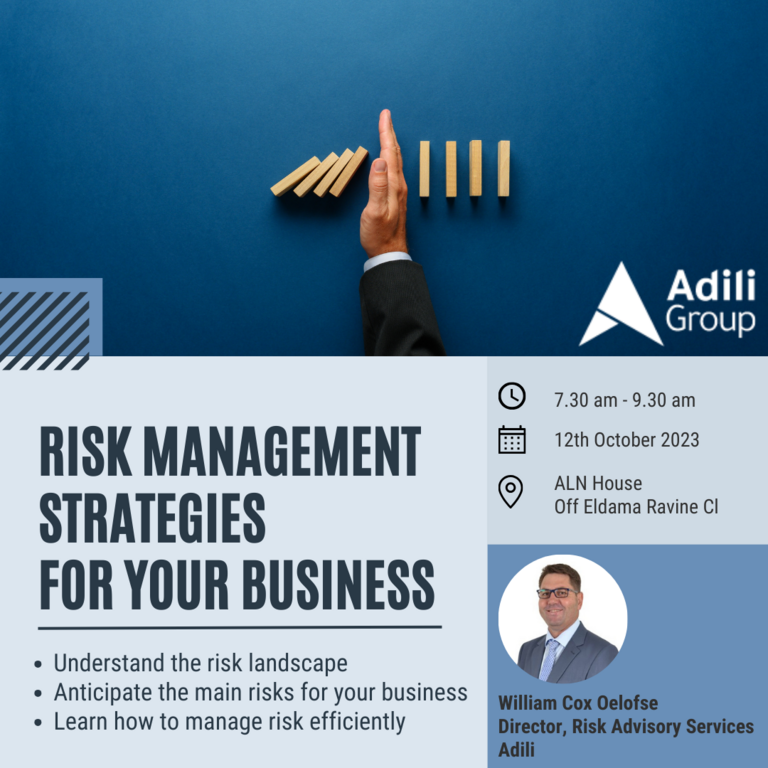 We are delighted to invite you to our upcoming breakfast meeting in partnership with our Gold member Adili Group on Risk Management Strategies for your Business
Thursday, 12th October 2023
7.30 am to 9.30 am
Our guest speaker will be Mr. William Cox Oelofse, Director Risk Advisory Services at Adili Group.
William has over 25 years of experience in addressing complex matters around the risk of fraud, corruption and non-compliance, covering multiple jurisdictions and industries. His expertise lies in providing risk advisory services, including corporate security, ethics and compliance, corporate intelligence, contract compliance, dispute advisory, and crisis management.
Through concrete case studies, William will guide you through the main risks faced by businesses today. He will also share top tips to enable businesses not only to foresee potential pitfalls but also to strategize and respond effectively to the risks they might face.
The Adili Group is a leading pan-African corporate advisory firm with two key offerings: Adili Advisory which provides the highest-quality corporate, risk advisory and outsourcing services, and Adili Private Clients which offers Fiduciary and Executor services to high-net-worth individuals. With a collective experience of over 100 years, they deliver tailored solutions in regulatory compliance, risk management, and improving business efficiency.
Adili Group